Veterinary News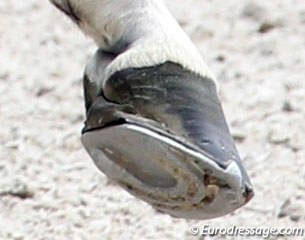 American Fran Jurga revealed that the secret to the dancing moves of Juan Manuel Munoz Diaz's Fuego might lie in the horse's rock 'n roll shoes custom made by Italian based farrier Hans Castelijns. For her hoofcare blog Jurga interviewed Castelijns on these odd-looking light weight aluminum shoes.
"Contrary to what is known as the (Ric Redden) "Rock'n Roll" shoe in the U.S., these (European rock 'n roll) shoes do not only work in the sagittal plane (toe to heel), but also in the latero-medial sense," Castelijns told Jurga. "They are more appropriately classified as belonging to the "full rolling motion" family of shoes: They have a large ground surface, which is, however, concentrated under the middle of the foot, away from the outer edges of the hoof."
According to Fuego's farrier of three years, these shoes assist the dressage horse because "the competition arenas become stiffer (less penetrable) due to the use of geotextile-type surfaces." Also, "the large amount of sideways work dressage horses perform (pirouette, small circles, shoulder-in etc.) can, in selected cases, be facilitated by the use of these shoes."
The shoe looks like a metal saucer with a mini shoe on top of it, creating a pivot under the foot which keeps the hoof wall out of first-impact with the footing in a dressage arena.
Fuego carries them only on his front feet.
Read the full article here.
Photo © Astrid Appels
Related Link
Munoz Diaz and Fuego XII, Kings of Hearts at the 2010 World Equestrian Games