2011 Equine Elite Young Stars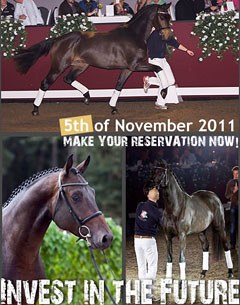 On Saturday 5 November 2011 Performance Plus will unveil the future of dressage. Under the name of Equine Elite Young Stars, 35 two-year-old stallions, five very interesting embryos, five top-broodmares and ten sport horses will be auctioned. The location of the event: the classy accommodation of Equine Elite in Weert, the Netherlands.
At the very successful auction Performance Plus, champions were sold such as Grand Prix horse Elmegardens Marquis (winner of European team gold in Rotterdam with Emile Faurie), Vradin (Gribaldi x Michelangelo) and Trione (Jazz x Zep), but also top-mares such as KWPN Mare Champion Wiona Utopia and Wonderlady Texel as well as approved stallions such as San Schufro and Florenciano.
Now the people behind this top auction compiled a new collection of future champions. This is a very attractive opportunity to jump on the bandwagon for the KWPN stallion selection in 2012. 35 two-year-old stallions which sparkle with excellent movements have been selected and will go under the hammer on 5 November 2011.
Also five broodmares with outstanding pedigrees and five embryos carry the future of dressage. Ten very promising dressage talents under saddle complete the collection of the 2011 Equine Elite Young Stars.
The horses will be presented on Thursday, 3 November 2011, in combination with a stallion show, where the top of the Dutch Dressage Stallions will perform.
From Wednesday 2 November onwards the horses of the auction collection will be stabled at the facility of Stal Korenbloem. It is possible to inspect and try out the horses on appointment.