2011 Global Dressage Forum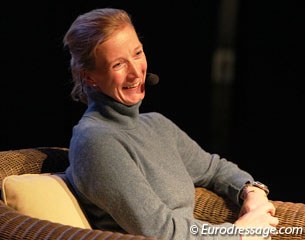 Team bronze Olympian Nathalie zu Sayn-Wittgenstein is probably one of the most demure dressage riders on the scene, but the royal Danish Princess, who lives at Castle Berleburg in Germany, stands out like a bright star with her beautiful riding and harmonious performances in the arena.
She may not be the traditional crowd-magnet for clinics but her masterclass at the 2011 Global Dressage Forum wowed the audience with its simplicity and logic.
Zu Sayn-Wittgenstein sat down with Richard Davison to talk about her personal life and introduction to horses. Though the cliché is true that a princess lives in a castle, there is nothing super regal about Nathalie's lifestyle. The sympathetic blond is very down-to-earth and prefers to limit her royal duties to "only that what I want to do, which is not a lot."
She spent 15-year olds of her childhood at a boarding school in North Germany. Nathalie got married last year to Alexander Johannsmann and they have a 15-month old son Constantin Johannsmann. Her husband works at his family's horse transport company while Nathalie devotes her time to riding in the morning, when a nanny comes in for the toddler. In the afternoon she is a full-time mom.
"My life is quite lovely, but it is a big change (with the baby). I'm thankful to my husband and family that I can still keep on doing the sport. Without them it wouldn't be possible," she said in gratitude.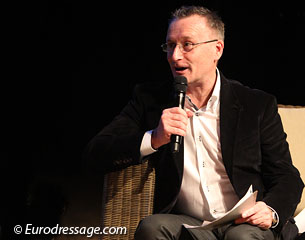 Nathalie's first pony was a naughty Welsh Mountain pony Pascha, but she spent her teenage years out of the saddle at school. "My father was very convinced that I had to do school first. 'You are not going to have a horse at the boarding school,' he said." After school she got half a year to a year time to find out if riding was something she really want to do.
Based on the advice of Danish Olympian Jytte Lemkow, Nathalie was sent to Sweden to train with Kyra Kyrklund. She spent four years in Sweden, then seven years in Germany with Klaus Balkenhol, and is now back with Kyra and her husband Richard White.
"I'm really thankful for that. I had a fantastic seven years with Balkenhol. I learnt a lot. I put the best of those two together and tried to do my own handwriting," she explained on her training background and philosophy. "Kyra and Klaus both use the training scale as basis. I try to stick to that. Kyra and Richard are very good in teaching you to find the right position, finding your own position, the balance on the horse. It's no magic. I read the horse and develop it, form it, in what I think is the right way to form a horse."
Do your Own Handwriting
Zu Sayn-Wittgenstein is known for riding not the most spectacularly moving horses, but the accuracy in her tests and harmony with her horses make her such a unique rider.
"My father neglected to buy a horse for millions. I never asked him to and I have never been upset that he didn't do it," she said frankly.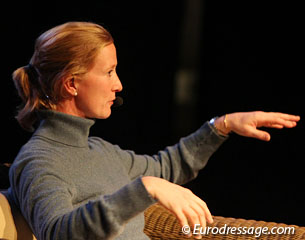 Nathalie can rely on the horses from her mother's breeding program which HRH Benedicte started after she received the mare Oxenholm Pamina as a gift from the Danish warmblood society. This brood mare produced Nathalie's most successful dressage horse to date, Digby (by Donnerhall x Sandro) with whom she won team Olympic bronze in 2008 and became reserve champion at the 2011 World Cup Finals.
"Digby is a super star. I love him to death and he knows it. He knows he's the king of the stable, but I try not to show that too much, because I have other horses. He's not the biggest mover. He has a very good walk, very good canter, but the trot is not so fancy. With Richard's help I was able to form the horse in what he is today."
"With a horse that doesn't move so much, you have to squeeze out all the points you can," Kyra said about Digby. "You have to be accurate, ride the corners." And that's what Nathalie does.
Zu Sayn-Wittgenstein's future depends on the offspring of Racine, the full sister of her Grand Prix horse Rigoletto (by Rubinstein x Rossi xx x May Sherif). Two of the mare's get she brought to the forum: Dolany, a 5-year old by Don Schufro, and Fabienne, a 9-year old by Future Cup.
Especially Fabienne has been a challenge to work with and it significantly shaped Nathalie in the rider she is today.
"You need to have a lot of patience and do the best out of what you have," she said.
Dolany Following in Digby's Footsteps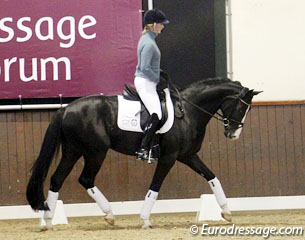 Nathalie brought two of her rising stars to the Forum to show what she has been working on and what is in store for the future. The 5-year old liver chestnut Dolany (by Don Schufro) is the youngster in which she has the high hopes for the future.
"The younger one gives me a lot of the feeling that Digby had, when he was young. I think he could be something very special. Maybe he can go into Digby's footsteps," she said hesitatingly.
Only the third time away from home Dolany was a bit shy on the short side but Nathalie remained calm and collected giving her horse confidence. She started out in a nice, relaxed trot, nothing spectacular, nothing fancy. The horse was stretching on the bit and in balance.
"I pat him a lot and try to give him the confidence so he keeps on thinking to go forwards," she explained.
Throughout the demo Zu Sayn-Wittgenstein not once felt the need to show off any of the potential of her horse in an extravagant way.
"I look at the positive things and work with them," she explained. "With this horse everything is easy. If you have a bad day and are in a bad mood, you need to get on this horse. You think "oh my god can't they all be like this one"."
Patience was the key word throughout the demo. This ruling device also showed in the time she takes overall in training horses.
"I break them in when they are 3 years old, then they go out in the field the whole summer. Then they come in again and are ridden 3 or 4 days a week. They also go in the field and are hacked. When they turn 4 they go back out in summer because I want to give them the time for really growing. Then they are brought in again and we start really educating them."
With 3-year olds she only does walk, trot, canter, straight lines and circles, on the loose rein and on the bit. "I'm pleased with that. I don't want to have them trotting around for 10. I want to breed rideability. Kyra says: "Better have a useful 8 than a useless 10"."
Zu Sayn-Wittgenstein said that a riding session takes her 30 to 45 minutes but with a lot of walk in between. Her 5-year old Dolany already showed some nice flying changes.
"I try to teach the horses flying changes as quick as possible," she said. "It makes life so much easier when they have to make the jump from 5 to 6-years old. My 5-year olds they don't go to a lot of competitions. I don't focus on the counter canter so much. This one learnt the flying change in 3 days. He has a nice, useful canter."
Nathalie feels no need to compete her young horses but prefers to take plenty of time schooling them properly according to what the horse is ready for. "There's no pressure, no deadline," she stated. "I allow him to stretch to the hand, everything quiet and relaxed. I don't try to ask for more expression than what you do with a 7 and 8-year old. I'm pleased when he does what I ask. I want them to last long. With Digby it took until 2008 before I could start asking to push the borderline."
Fabienne Testing Nathalie's Wits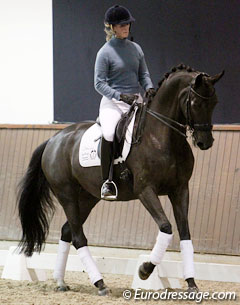 The 9-year old Danish warmblood Fabienne (by Future Cup) has proven to be a handful for Nathalie and she was honest to admit that this mare has pushed her to her wits' end.
"She has really taken use of a lot of my brain cells," Nathalie said at the beginning of her ride on the black mare. "She's the sweetest horse in the stall, but as soon as you get on her back, her turbo is on. When we broke her in, she either ran and you couldn't stop her, and if you stopped her, she reared from tension. I had to decide: teach her to wait for me or stop her from rearing. I decided to teach her to wait for me."
After a rocky start trouble had not come to an end. When she turned 6 Fabienne was a handful when teaching her the flying changes. "I nearly gave up when she was 6," Nathalie admitted. "My father said 'you can't sell her if she can't do anything.' So I counted, 22, 23, 24. In the end she did the change and then waited for me. But then my mom told me, 'when will she do the changes without the croup high?'" "Thank you very much," she told her.
Fabienne is now 9 years old and confirmed at small tour level, schooling some small passage steps. "She's far from being perfect but in the last year she's giving me the feeling of becoming a Grand Prix horse. How good she's going to be I can't say. It's also up to the judges of what they like and don't like. If it takes another year, it takes another year. But in the end I might have a nice Grand Prix horse."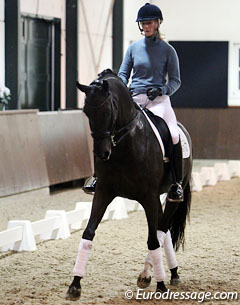 At the Forum zu Sayn-Wittgenstein showed very basic schooling work. Relaxation exercises, trot work with a long, stretched neck and control of the tempo and length of her steps. "I influence her with my seat, hand, and leg. She didn't accept that I could put my leg on when she was young. Her attitude, even now, is still 'I don't know, I can't do it, I won't do it.' So even if she did one centimeter of a good step, I patted her. That one centimer became one meter. I'm happy I took the time. Sometimes it is worth taking a bit more time and try to make something out of this horse and develop it."
Zu Sayn-Wittgenstein not only finds it important to take her time with the training of the horses, but she also takes care of their mental health. "It's important for sport horses to have a horsey life: roll in the sand and feel grass under their hooves and be a normal horse."
Nathalie's independent and quiet seat is exceptional and used as an important tool in her training. "At home I very seldom ride with a whip. They react to my leg and seat. I only use a whip when I really have to to improve the gait."
Zu Sayn-Wittgenstein explained that she learnt the piaffe and passage from Klaus Balkenhol. She always teaches her horses the movement from the saddle and does little groundwork. "Balkenhol is a genius in teaching piaffe-passage. I have learnt a lot from them. I've always done it from on top, not from the ground. With this one (Fabienne) we did go behind her a bit with the whip to help her a bit. I wasn't able to put my leg on her, so I helped her with the whip to help her with the technique. Sanne (Nathalie's groom) on top or I on top and Sanne behind me."
The View from the Mountain Top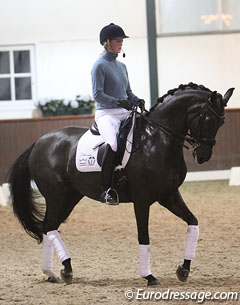 Zu Sayn-Wittgenstein's training philosophy comes down to learning from different trainers and doing one's own handwriting. Nathalie repeated  the important words from her trainer Kyra Kyrklund. "Kyra always says, 'there are a lot of ways to get to the mountain top but the view from up there is the same.'"
With her patient work Nathalie aims to establish a correct training basis and a trustful partnership with her horses so that harmony and lightness rule.
"Maybe yes it has taken longer to educate them," she said, "and they are not the biggest movers in life, but they can go through a test where they trust me and in a nice way. I never pushed them when they were not yet able to be pushed yet."
"There's no big magic. It's my way of training horses," she stressed. "It takes slightly longer. I don't care. I have the time. I don't have owners behind me who say it has to do Grand Prix at 7 or 8. I am my own boss and I have learnt to have the patience. "
After her demonstration Nathalie was praised by the discussion panel, consisting of Imke Schellekens, Matthias Rath, Beatriz Ferrer-Salat and Andrew McLean. The latter stressed the importance of making small steps of progress in horse training. "The way she thinks about training: asking for a little bit, then a little bit more, a centimeter, a meter. We have so much expectations from our horses but they don't know that, they don't know what to do," McLean stated.
When asked what she would do different in the training when she saw Nathalie ride, Imke Schellekens replied that she would ride more tempo differences. "The tempo in the training is quite low. We switch a lot more in tempo: forward-back, play more with the reactions of the horse. I would get the feeling that my horse falls apart if I would do what you do," said the Dutch team rider. Nathalie reacted by saying that she had to ride a quieter tempo here at the forum because otherwise Fabienne "would have gone through the roof. At home I ride more tempo changes but still not as much as you do here in Holland."
Nathalie explained that she always rides in a snaffle. "90% of the time I ride all my horses in a snaffle. Two weeks before competition I will start putting the double bridle in. I'll start them in a double bridle when they are at the end of 6 begin 7 years old, until they are used to it and then I go back to a snaffle."
Nathalie's seat was praised by the panel and they wanted to know what she did exactly. "It's just a feeling I have in my bum. It's something in my body," she said almost cluelessly about her own ability. "It's the same with Isabell. She wiggles around and her horse does it. There's only one bum like Isabell's."
Next Page of the report: coming soon
Text & Photos © Astrid Appels/Eurodressage.com - No Reproduction Allowed without permission
Eurodressage Coverage of the 2011 Global Dressage Forum