A Walk on the Premises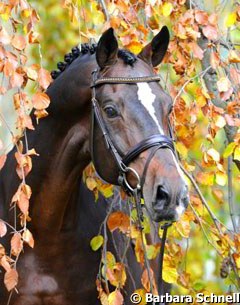 Eurodressage correspondent Barbara Schnell was invited to the home of several German dressage riders for a photo shoot taking advantage of the beautiful autumn colours and sunshine. Schnell sent us a selection of the photos she took in October and November.
The photo on your right is of Munchhausen, the 2011 Trakehner Stallion of the Year and probably one of the most beautiful dressage stallions standing at stud.
"There's no comment really. He still is the world's most gorgeous horse and he knows it,' Schnell told Eurodressage.
Photos © Barbara Schnell - No Reproduction allowed