American Dressage News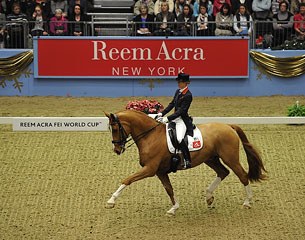 American "S" dressage judge Kristi Wysocki attended the FEI Judges course held at the 2011 CDI-W London and reported on her experiences for Dressagedaily.com.
The week of December 12th promised to bring great success once again to the British riders at the CDI-W Olympia-London.  Observing the show as a participant in the FEI Judge's course led by Wim Ernes (NED) was both exciting and educational. Mr. Ernes is a FEI 5* Dressage judge destined to be on the judge's panel at the upcoming Olympics in London. Mr. Ernes' commentary throughout this exceptional competition was incomparable. He was always positive and forthright, always wanting the best for each pair that entered the ring. When a horse had a problem or mistake, he was always disappointed for the pair first, then remarking and giving a score.

Prior to the start of competition, Mr. Ernes emphasized the importance of communication amongst both judges and riders to improve our sport and standards.  He pointed out the judge's responsibility of bringing theory to practice. The judge must evaluate the movement and determine the right mark and remark, otherwise the theory doesn't translate. In the grand prix test an average of four scores and remarks per minute are required, although during the piaffe – passage tours the scores and comments come much faster than that. So it is very important that the judge has the theory very clear in their mind so these scores and remarks can come quickly as the test progresses.
Read complete article here.
Related Links
Arduous Work Delivered at FEI Technical Delegates' Seminar at 2011 CDI Wroclaw
A Coming Together of Minds at the 2011 FEI Young Horse Seminar and Judges Course
Judging Refresher Course in Brazil with O-judge Mariette Withages