French Dressage News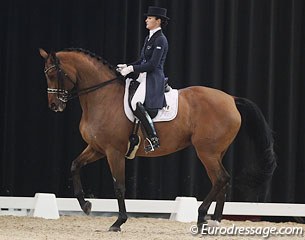 The French Ministery of Sport has made a list of high performance athletes for the 2012 show season which will be supported by the French Equestrian Federation (FFE). Through systematic training and structured financial support the FFE aims to improve the level of dressage in France.
France has the opportunity to make their top Grand Prix riders as well as Young riders benefit from government funding.  Lists are made up  each year by the Ministry of Sports which contain the names of the most successful combinations. These list include the High Performance Athletes.
The French Equestrian Federation (FFE) Riders will be able to train and improve their skills at specially hosted training seminars with Hans Heinrich Meyer zu Strohen, Hartwig Burfeind and O-judge Katrine Wüst, as well as get priority in the allocation of slots at international competitions. They also get financial support for the transportation of their horses and lodgings at events and seminars.
Grand Prix riders that have obtained 67% or more in CDI can get specially dedicated funds to stimulate their personal training for 2012. At the moment seven Grand Prix riders are enjoying this extra funding and they are the highest ranked French riders on the Olympic ranking list: Jessica Michel with HH Meyer zu Strohen, Stéphanie Brieussel with Hans Peter Minderhoud, Sebastien Duperdu with Stefan van Ingelgem, Arnaud and Anne Sophie Serre with Monica Theosorescu, and Catherine Henriquet with Johann Hinnemann.
Alain Francqueville remains to be the national selector and Grand Prix chef d'equipe, while Grand Prix rider Muriel Leonardi has been newly appointed as chef d'equipe for the juniors and young riders and Alizee Froment as pony chef d'equipe.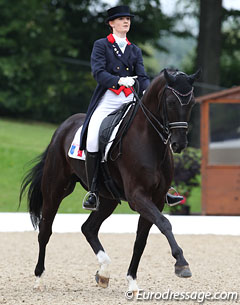 In order to help up and coming combinations to progress to International level, national clinics with Meyer zu Strohen are organized for approximately 20 horses, which have been chosen by Francqueville.  These clinics take place in Paris area (Jablines, les Breviaire) or in Saumur.  One clinic is also organized for the riders in the south of France (Vidauban). CDI Hopeful combinations are Jessica Michel (Daimler de Hus), Claire Gosselin (Karamel de Lauture), Vincent Guilloteau (Woodstock) and Ludovic Henry (After You). This group also includes several Under 25 riders, such as Camille Judet Cheret, Julie Pellerin, Alizee Froment and Pauline Leclerq.
The Young Riders Group which benefits from clinics by Hartwig Burfeind includes Charlotte Catry, Pauline Guillem, Jessica Hel, Pauline Leclerc, Helenne Legallais and Victoria van den Berghe, a well as Sharon Yvroux, Thomas Bobis, Katia Bues, Salomé Sadoun, Ninon Vandenabeele, Valentin Leclerc, Caroline Osmont, Corentin Pottier, and Victoria Saint Cast.
The Pony Riders Group which gets to train with Burfeind includes Lisa Cez, Charlotte Charrier, Morgane Euriat, and Clarissa Stickland-Ruffin.
"There has been a big evolution in France even thought it's still difficult for French riders to achieve a significant performance," Alain Francqueville told Eurodressage. "However, the number of Grand Prix horses has multiplied by 4 in 10 years thanks to the creations of tests that are intermediate between the Small and Big Tour and the Grand National.  The number of French horses at CDI's has gone from 15 to 35 and  most importantly five 'new' combinations are starting to score above 68%.  This in itself is very encouraging for France.  In this same period we have also seen the number of CDI's organized in France go from 2 to 10."
An updated list of the French Dressage Groups will be available at the end of February 2012.
Photos © Astrid Appels - No reproduction allowed
Related Links
French Grand Prix Riders Prepare with Hans Heinrich Meyer zu Strohen for 2012 Show Season
French Dressage Focusing on 2012 Olympic Games