Dutch Dressage News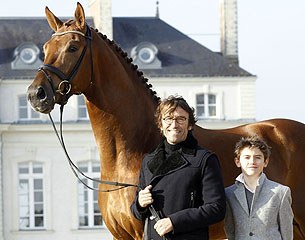 Dutch equestrian magazine Hoefslag reported that the Dutch ING Bank has won the lawsuit against French Xavier Marie's Haras de Hus concerning the acquisition of Poetin (by Sandro Hit x Brentano II) at the executorial sale on 1 September 2005 in Nijkerk, The Netherlands.
The World Champion mare Poetin was acquired by Marie's Haras de Hus at the auction but the mare suffered from serious laminitis and was euthanized three months later.
At the Amsterdam Court Haras de Hus claimed the amount of 1,181,797 euro from the ING Bank for the value of the horses, costs relating to the sales agreement and additional costs as well as compensation and intrest.
As basis of the claim, the buyer posed that the ING bank offered the horse at auction as a healthy top dressage horses, while they were aware that the horse was being treated for a long time and was heavily medicated. The buyer believed that relevant veterinarian information was deliberately concealed by the ING bank. According to the buyer, the horse should not have been intensively ridden under saddle as happened at the auction.

In first instance the court denied the claim on 8 August 2007 because the complaint was not filed within the allocated time (within two months of the arisal of the problem). The buyer appealed the verdict but a decision was reached on 6 December 2011. According to the court, the prosecutor was unable to prove that the ING Bank was aware of Poetin's injury and denied the claim definitively.
Read the verdict here (in Dutch).
Source: De Hoefslag
Related Links
ING Bank Has to Reveal Medical Documents in Poetin Case
Xavier Marie Sues ING Bank in Poetin Case
Poetin Passed Away
900,000 euro for Poetin at Cees Lubbers' Executorial Auction
Poetin Sold for World Record Price of 2,5 Million at 2003 P.S.I. Auction