FEI Dressage News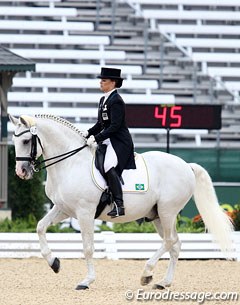 The FEI Tribunal has found that the protest filed by the Dominican Equestrian Federation (FDDE) seeking to invalidate the CDIs which took place in Brazil from 10 to 12 February and from 24 to 26 February 2012 is admissible and timely.
Protests against the CDIs which took place in Brazil between 1 March 2011 and 10 February 2012, were time-barred since the 14-day period for filing a protest after an event had expired.
The FEI Tribunal, of which the panel included Dr Jens Adolphsen, Vladan Jetvic and Armand Leone, found that the FDDE was not obliged to attend the shows and or/file a protest with the Ground Jury. The Dominican riders did not compete at these events in Sao Paulo, but could have been indirectly affected by the results of these competitons, as they count for the 2012 Olympic rankings and qualifications. The FDDA correctly filed a protest with the FEI's secretary general.
The Dominican Republic protested the fact that the CDI Sao Paulo featured three national judges and only two foreign judges, whereas the FEI rule stipulates that a minimum of three international judges need to assess the Olympic qualification classes. The exemption to have three foreign judges was neither discussed nor approved by the FEI Dressage Committee. The schedules of the February CDI Sao Paulo shows were submitted and approved last-minute, but the rules stipulate definite timelines for CDI approval. Any foreign rider that might want to compete in Brazil woul not be able to prepare for the journey from abroad. A minimum of 5 foreign NFs need to be invited for a CDI 3* and those invited NFs listed in the schedule, which did not happen according to the DOM FN.
If the results from the two February CDI Sao Paulo will not be taken into consideration for the OG rankings, the rider of the Dominican Republic will became the Group E winner and qualify for the Olympic Games.
The Tribunal's decision issued on 27 March 2012, published here, concerns only the admissibility of the protest and does not address the merits of the case.
An in-person hearing on the merits of the case is scheduled for 4 April in New York (USA). The parties – the Dominican NF, the Brazilian NF (Confederação Brasileira de Hipismo), and the FEI – have until 2 April to make their legal submissions.
Photo © Astrid Appels
Related Links
FEI Tribunal Hears Protest of Dominican Republic NF and Will Decide Soon
Editorial: Olympic Typhoid Fever