Eurodressage F.O.C.U.S.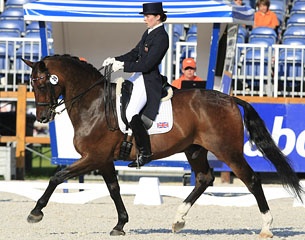 Samantha Brown is a young British international dressage rider as well as a producer and breeder of sports horses and ponies. Gaining international experience and exposure as a British team junior rider, Brown has now established her own training, sales and breeding facility Samantha Brown Dressage based at Leamside Equestrian in the U.K.
Sam never really showed an interest in horses until she asked for jodhpurs aged 9 years old even though her mother has had horses all her life. Jodhpurs led to boots, hat and riding lessons and finally a pony for Christmas. Unbeknown to Sam she had been riding her very own pony for about 3 months for her mam's "friend" just in case she didn't show commitment.
While spending the last 4 years based at the Moody sisters' yard, Sam has completed her British Dressage Apprenticeship and is now a BD Assistant Stable Manager. She is also training towards her UK Coaching Certificate. She is looking at expanding her client base by establishing at her parents yard in Leamside, County Durham.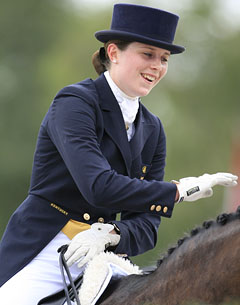 "I stand my two pony stallions, Caesar 171 and LE Chiffre, from my parents' home and I have a number of young ponies and horses to start under saddle and produce for sale so it made more sense to develop a base at home," Brown explained. "LE Chiffre is currently at the Moody's yard and I have a clients' horse there which I am competing and producing for sale so I am splitting time between Barnsley and Durham at the moment. The two hour drive is broken up as I have clients on the route home so it works quite well."
Sam's versatility in handling and training horses has grown over the years. "Preparing the young horses in hand and then producing them under saddle has given me a wealth and depth of knowledge. I have been breeding now, under my mother's guidance, for the last 4 years and my first young ponies are being prepared under saddle, which is very exciting," she said.
Sam has competed to Prix St Georges level and represented Great Britain up to FEI Junior Riders level. At the 2009 European Junior Riders Championships in Ermelo, The Netherlands, Sam was the highest placed British Junior and ranked 21st out of 72 competitors across all European nations. On returning at the highly contested Sheepgate U25's championships Sam was Advanced Medium, Junior and Young Rider Champion. 2010 started well again and Sam also represented Great Britain at the 2010 European Championships in Kronberg, Germany.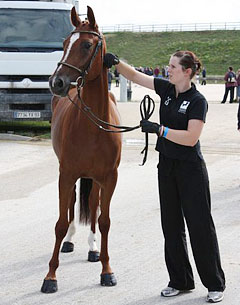 After a great journey and a fantastic stay at the Schafhof, Sam was not so lucky in the team test as Kwadraat, owned by Becky Moody, damaged his annular ligament at the Europeans and retired from the remaining competition. Thankfully after an operation and rest he is now back in full work and going super.
After spending two years as a member of the British Junior Riders squad Samantha shifted her attention to breeding as well. "I decided that I should get involved with the first GB Team for International Young Breeders," she explained. "The scheme is phenomenal. It is not just presenting a horse in hand but you have to demonstrate a great knowledge of horses in the written exams covering topics as breeding, nutrition, stable management, health and welfare and sport. You have to understand the top performing stallions to be able to present a horse, judging conformation and jumping. I found the whole experience and training throughout the year invaluable. I made some great friends and had the opportunity to train at some of the countries' top studs by working with great horses. I feel very fortunate to have had those experiences. I went on trips abroad to auctions and stud visits which again has been invaluable in gaining all round knowledge."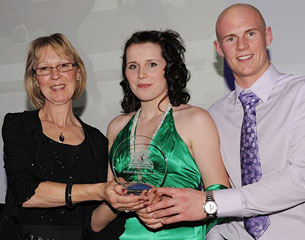 Last year Brown, whose home bred ponies carry the breeding prefix of Godrics Stud, was awarded the British Breeders Performance and Breeding award for Caesar 171. The award was presented at the British Breeders' Ball by the Sports Pony Stud Book with whom Caesar stands at stud alongside his son LE Chiffre. Sam's home bred ponies carry the breeding prefix of Godrics Stud.
Visit Samantha Brown Dressage at www.samanthabrowndressage.co.uk or her Facebook page.
Related Links
Great Results for British Young Breeders at 2011 World Young Breeders Championships in Lyon
British Teams for 2010 European Junior/Young Riders Championships Announced
British Junior and Young Rider Squads for 2009
Harris, Bates, Cartwright, 2007 British Youth Rider Champions