2012 Bundeschampionate Qualifier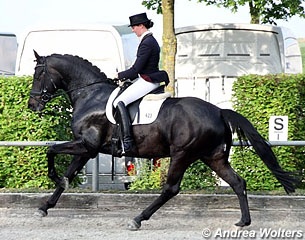 Sir Diamond and Dexter were the winning horses in the Bundeschampionate qualification classes held at the Rhinelander regional competition in Mönchengladbach-Niershof, Germany, on Friday 1 June 2012. A group of 21 horses gathered at the show grounds to contest the L and M-level Dressage Horse Tests.
In the 5-year old division Lydia Camp and the Oldenburg bred Sir Diamond (by Sir Donnerhall I) scored 8.0 to win the class and earn a ticket to Warendorf. Iris Herren and the Rhinelander Sinfonie (by Sir Donnerhall I) were the runners-up with 7.8, while Stefanie Wittmann and the Hanoverian bred Rubin (by Royal Blend) finished third with 7.7.
In the 6-year old age category Miriam Becher and the Rhinelander bred Dexter (by Daddy Cool) scored 7.8 to top the leader board. Jana Freund and Delamanga, a Baden-Wurttemberger by Dr. Jackson were second with 7.7, while Manuela Hein and Sergio (by Stedinger) slotted in third with 7.5.
Photo © Andrea Wolters
Results - 2012 BuCha Qualifier - Mönchengladbach
5-year olds
1. Sir Diamond  - Camp, Lydia - 8.00
2. Sinfonie  - Herren, Iris - 7.80
3. Rubin - Wittmann, Stefanie - 7.70
4. Reamon - Reisch, Christian - 7.60
4. Dornenstern - Wolf, Stefanie - 7.60
4. Cennin  - Peters, Stephanie - 7.60
7. Serenissima RH - Camp, Lydia - 7.30
7. Dankeschön  - Wilimzig, Anja - 7.30
9. First Famous - Sander, Martin - 7.20
9. Lord Wallonia - Morris Talbot, Chloe - 7.20
11. Rudolfo Santo Negro - Müller-Windgassen, Susanne - 7.10
12. Ribiano - Tempel, Ina -  6.90
13. Frauenheld PL - Sander, Martin -  6.80
14. Favourite Floyd - Schneiders, Jerome  - 6.70
6-year olds
1. Dexter - Becher, Miriam - 7.80
2. FS Delamanga - Freund, Jana - 7.70
3. Sergio - Hein, Manuela - 7.50
4. Rasputin W - Stigler, Laura  - 7.40
5. Sofiero De - Münzmaier, Heiko - 6.90
6. Dark Dandy - Kramer Dr., Catrin - 6.70
7. Sammy Deluxe- Hermes, Marcus - 6.60
Back to the 2012 Bundeschampionate Index