Westfalian Breeding News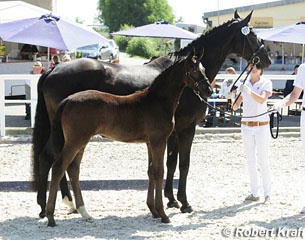 On Saturday 23 June 2012, three foals shows took place in Germany as a qualification event for the 2012 German Foal Championships. Stallions Londontime, Sunday, San Amour, Furstenball, Franziskus, and Arpeggio sired the winning foals at the shows in Espelkamp-Vehlage, Donzdorf, and Warendorf.
At stallion station Espelkamp-Vehlage, Monika Diekmeier's colt by Londontime out of Shelbyville (by San Remo) took highest honours in his category. He outclassed Hubert Hempen's colt by Christiano x Arpeggio. The best scoring filly was Volkenr Schmale's Sunday x Fidermark. Ulrich Böker's filly by Christ x Faustinus became the runner up.
At the foal show hosted by Gestut Birkhof in Donzdorf, Paul and Siegfried Unseld's colt by Furstenball x Sir Oldenburg scored the highest amount of points. With a score of 83 this colt became the winner. He referred Anja and Josef Riss' Lingh x Werther's Wels to a second place wiht 80 points.  In the filly division Sophie, the full sister of licensed stallion Sandbrink (by San Amour x Cabaret), took highest honours with 83.5 points, while Anja and Josef Riss'sDon Juan de Hus x Sandro Hit filly finished second with 81.5 points.
At the Westfalian Landgestut in Warendorf, the winning colt became Sandra & Thomas Johannvorderbrüggen's Franziskus x Bandoliero xx offspring. The runner up was Irmgard Frerich's Laureus x Florestan colt. In the filly divison Vitalis sired three of the top five ranked foals. The winner was Wolfgang Wießner's Arpeggio x Curt. Wießner also bred and owns  the second placed filly by Vitalis x Arpeggio.
Photo © Robert Kraft
Results - 2012 Foal Show - Espelkamp-Vehlage
Colts
1. Londontime  out of  Shelbyville  (by San Remo)
Breeder: Mona Diekmeier
2. Christiano out of SPS Alphaville  (by Arpeggio)
Breeder: Hubert Hempen
3.  Dankeschön out of  SPS Baronesse von Varl  (by Belissimo M)
Breeder: Volker Schmale-Steinkamp
4.  Benetton Dream out of Sommerhit  (by Stedinger)
Breeder: Fam. Plantaz
5. Chin Quin out of Larissa (by Lancer III)
Breeder: Friedrich Niemeyer
Fillies
1. Sunday NRW out of VPS Fedelia   (by Fidermark)
Breeder: Volker Schmale-Steinkamp
2. Christ   out of  Felicitas   (by Faustinus)
Breeder: Ulrich Böker
3. Franziskus   out of  Schokolata   (by Show Star)
Breeder: Katharina Hadeler
3. Furstenball   out of  Feingold KR   (by Fürst Piccolo)
Breeder: Karl-Gerd Kohnert
Results - 2012 Foal Show - Donzdorf
Colts
1. Furstenball x Sir Oldenburg
Breeder: Paul & Siegfried Unseld - 83,00
2. Lingh x Werther's Wels
Breeder: Anja & Josef Riss - 80,00
3. Belissimo M x Landioso
Breeder: Gisa Barthel -  78,50
4. Lingh x Pageno xx
Breeder: Karin & Stefan Bauer, Salach  - 77,50
Fillies
1. Sophie (by San Amour x Cabaret)
Breeder: Georg Ederle -  83,50
2. Don Juan de Hus x Sandro Hit
Breeder:  Anja & Josef Riss - 81,50
3. Sir Alfred x Feingold
Breeder: Renate Dornauer - 80,50
4. Foundation x Rubinstein
Breeder: Hugo Schmidgall - 78,50
5. Millennium x Donnerschwee
Breeder: Jürgen Fetzer  - 77,50

Results - 2012 Foal Show - Warendorf
Colts
1. Franziskus out of Bandola AA  (by Bandoliero xx)
Breeder: Sandra & Thomas Johannvorderbrüggen
2. Laureus out of  SPS Fujuhma  (by Florestan I)
Breeder: Irmgard Frerich
3. Den Haag out of Chanee  (by Charming)
Breeder: Cornelia Johannhörster
4. Dankeschön out of Sunshine  (by Show Star)
Breeder: ZG Ricarda Schräder & Martin Witte
5. Jeraldo out of Cordoba  (by Cordobes I)
Breeder: Ferdinand & Henning Meier-Bultmann
Fillies
1. Arpeggio out of Chiara  (by Curt)
Breeder: Wolfgang Wießner
2. Vitalis out of  SPS Arabella  (by Arpeggio)
Breeder: Wolfgang Wießner
3. Vitalis out of SPS Fleury-Ness  (by Fleury)
Breeder:  Irmgard Frerich
4. Fürst Piccolo out of Royal Riccia  (by Riccio)
Breeder: Ingrid Koonen
5. Fleury out of Paula  (by Pablo)
Breeder: Josef Steingröver-Kleemann
5. Vitalis out of Maydena  (by Mon Cheri)
Breeder:  Heinrich Pieke
Related Links
Dante Weltino, San Amour, Count Up, Might Magic Sire Winners at 2012 German Foal Shows
Furstenball, Don Bolero, Franziskus, Quaterback, Decurio Sire Top Foals at 2012 German June Foal Shows
Benidetto and Romanov Foal Win at First German Foal Show of 2012