2012 Bundeschampionate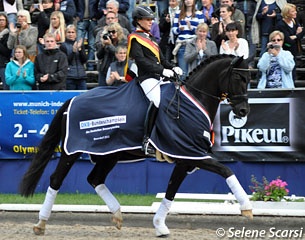 Kristina Sprehe and her father's Oldenburg licensed stallion Furst Fugger (by Furst Heinrich x Weltmeyer x Pik Bube II) became the winners in the 6-year old dressage horse class at the 2012 Bundeschampionate in Warendorf, Germany, on Saturday 1 September 2012. Scoring an average of 9.5, Sprehe and her black stallion were a league of their own.
The panel of judges awarded the pair 10 for trot and general impression, 8.5 for walk and 9.5 for canter and submission. Sprehe rode beautiful flying changes on her picturesque stallion. The horse moves with much spring, suspension and elasticity but should improve up staying more up in the bridle. Sprehe's scores put her miles ahead of the reserve champion's pair.
Victoria Michalke and the sympathetic bay mare Novia (by Stedinger x Alabaster) finished in second place with an average of 8.6. The bay mare excels with her cadanced trot work, for which they earned a 9.5. The judges scored the walk 7.5, the canter and submission 8.5 and 9 for general impression.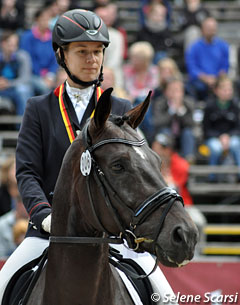 Anja Wilimzig and the gorgeous Westfalian stallion Sunday (by Sandro Hit x Donnerhall) got the bronze with an overall score of 8.5. This combination placed first in the preliminary test and ended up third in the finals" round. The pair scored 8.5 for trot, canter and submission, 8 for walk and 9 for general impression.
Last year's 5-year old Bundeschampion Furstenball OLD (by Furst Heinrich x Donnerhall x Classiker) dropped to 12th place. In trot the black stallion still showed off his elasticity (8.5) and the best walk of the day (9.5) but in canter the stallion became incredibly nervous and executed all flying changes with too much tension. The judges had no mercy and scored the horse 6.5 for canter and 6.0 for submission. With another 7.0 for overall impression, Furstenball landed a 12th place with 7.5. Similar problems happened to Holga Finken's Westfalian mare Sissy von der Heide (by Sandro Hit). The mare got tense in walk and had no overtrack (5.5). The trot and canter earned her 8s so she pulled her score back up to an average of 7.2 and a 16th place.
Photos © Selene Scarsi
Related Links
Scores 2012 Bundeschamionate
Eurodressage Coverage of the 2012 Bundeschampionate