2012 Equine Elite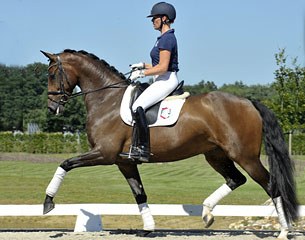 With selections and vettings completed, Europe's biggest dressage "party" is almost ready to open its doors to the public. The 2012 Equine Elite Auction is set for 27 October with trial rides commencing on 16 September by appointment. This year's collection includes amazing dressage champions, licensed stallions and no less than 10 Prix St Georges level trained horses!
The 2012 Equine Elite collection includes 50 horses, amongst them the American triple crown winner Selten HW (winner of the Markel/USEF Young horse championships as a 4, 5 & 6-year old!), the Oldenburg licensed stallion San Dior, and a string of 10 Prix st George horses including the stunning Zwarovski (by San Remo) who competed succesfully under Dutch Olympia Patrick van der Meer.
Only a handful of 3 years olds made the grade this year, which means the collection is predominantly made up of "trained horses".
The official presentation evening is on 24 October and entry is free. However, as always please be aware that reservations are obligatory for the auction on 27 October. There are no last minute ticket sales at the door and the event has sold out every year since it began.
Happy Hunting!