Eurodressage Market - Products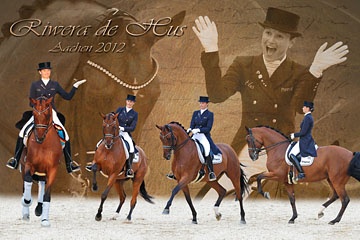 For the 2012 Christmas holidays Eurodresage offers exclusive "photo collages" custom-made of pictures we took of your horse at CDI's. A collage can have between 3 to 5 images per poster and we can deliver them in variable sizes.
Do you want an original, unique and personal gift for the upcoming winter holidays, than a collage can be your thing!!
Sizes deliverable range between 30 x 45 cm, 40 x 60 cm and 50 x 75 cm. Prices for a collage range between 250 - 350 euro.
Were you photographed over the years by Eurodressage's Astrid Appels, than email us and we can send you the contact sheets of your photos so you can pick and choose between 3 to 5 photos for your own personal collage.
Did you compete at the CDIO Aachen, CDI Leudelange, CDIO-PJYR Moorsele, Vidauban or Roosendaal? Compiegne, the World Young Horse Championships in Verden? Any kind of European Championships (pony, junior, young riders). We were there! Check out the list of competition we covered here.
Be original, be creative and get a special Christmas present for your horsey friends!
Don't wait too long to get in touch as this is a limited offer if you want the poster ready before mid December! We can only handle a certain amount of collages (as it is time consuming to make these) so it will work on a first come, first serve basis!