2012 Equine Elite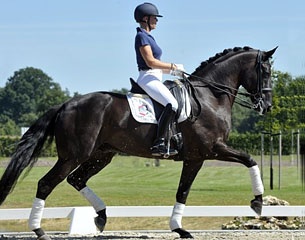 The 8-year old American owned and Hanoverian bred Selten HW became the price highlight of the 2012 Equine Elite auction at Stable Korenbloem in Weert, The Netherlands on Saturday 27 October 2012.
Bred by Irene Hoeflich-Wiederhold and owned by Elizabeth Ball, the black gelding Selten HW (by Sandro Hit x Hohenstein) sold to British WEG team rider Fiona Bigwood for 500,000 euro. This is the highest price ever paid at the Equine Elite auction so far! Bigwood is not an Equine Elite first timer. At the 2011 auction she acquired the Swedish licensed stallion Cashmir, which became the British Pavo Cup selection trial winner in Hartpury under Fiona's fiancee Anders Dahl.
"As magnificent as he was in young horse classes, at 6 years when starting to begin collection I realized he needed a stronger rider than myself to give him continued success," said previous American owner Elizabeth Ball. "Also, selling him so well is a huge success for my business. I'm very excited for his wonderful future with Ms Bigwood!"
Selten HW was the first American horse to score a triple crown, winning the U.S. Young Horse Championships as a 4, 5 and 6-year old. The black gelding was shipped to Europe to be trained at Hannes Baumgart's barn for the last year and a half, before being added to the Equine Elite auction collection.
British dressage rider Rebecca Hughes acquired the 5-year old Dutch bred mare Chanell (by Dutch Dormello x Krack C).
Related Links
Equine Elite Auction News on Eurodressage
Scores: 2010 U.S. Young Dressage Horse Championships
Aesthete, Selten HW, Pikko del Cerro Win 2009 U.S. Young Horse Championships
Selten HW, Winsor and Cabana Boy Win 2008 U.S. Young Horse Championships