Eurodressage F.O.C.U.S.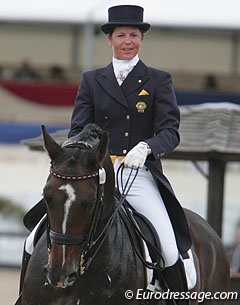 Competing Grand Prix level dressage since the age of 16 and having participates in the 2009 European Dressage Championships in Windsor, Latvia's current dressage champion Airisa Penele is single handedly putting her nation on the map!


"Representing Latvia in international competitions is not easy, since many people don't even know where Latvia is located and it is very often confused with Russia," said the 42-year old. "There have been incidents at competitions I have won, where instead of Latvia's flag being flown, the Lithuanian flag was brought in.  Only thanks to my persistent participation in international competitions have the judges started noticing me as a Latvian rider."
Beginning her riding career at age 11, Airisa joined a riding learners' group at a sports school and knew immediately that dressage would be her chosen sport to master.
"I thought, if I try to sit with my back straight, maybe some dressage trainer will notice me. A year later, I was already admitted to a dressage group with the trainer Astrida Belovzorova. At the age of 16, I was taking part in Grand Prix competitions and from the age of 17 to 21, I was a member of the USSR Young Riders Team."
After Latvia regained its independence from the USSR, Airisa's family had the opportunity to purchase a private stable, which she runs to this day. She manage the stable together with ger husband Mairis Penelis and her two daughters, who both got their mum's horse bug.
"My youngest Laura (17 years old) is Latvian junior champion in show jumping and the eldest Sabina (24) rides dressage with young horses and helps me as my own little groom in competitions."
Airisa's and indeed Latvia's greatest dressage achievement has been her participation with Ravels  (by Radiant x Valerik) at the 2009 European Championship in Windsor, after having been just a little short from winning the right to participate at the 2008 Olympic Games in Hong Kong. Unfortunately only one rider from Central European zone obtained the right to compete at the 2008 Games, despite efforts from the Latvian equestrian federation to obtain a wild card.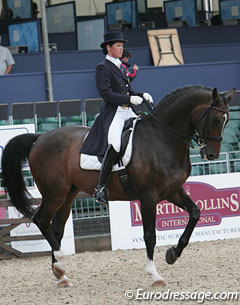 "My partner in all that success came to me eleven years ago," Penele explained, "when I was offered a seven year old show jumping stallion to try in dressage.  He had been determinately refusing to jump over even the tiniest fence, which of course in showjumping, was quite problematic. Our beginning was not very hopeful. He threw me off twice and the second time I broke my leg. However, this only brought us closer."
Having made the decision to retire Ravels from Grand Prix international competitions, Airisa consider him her best ever horse. "Now he is 18, and will enjoy his long rest," she said.
With around 15 national level dressage competitions taking place in Latvia each year, the country has very few riders competing at Grand Prix level and while representing Latvia in international competitions is not easy the country is producing some talented horses. Latvia has bred some talented dressage greats, such Rusty (Ulla Salzgeber) and Artax Condor (Elena Sidneva) as well as young horses Avans (Inessa Poturaeva) and Arlekino (Anna Karasiova).
"At the moment, I have six dressage horses which I have purchased from local horse breeders. I try to buy young horses as the price is often more affordable," she said.
As there are no well-qualified dressage trainers in Latvia, Aisrisa has been training herself for many years, and therefore tries to get herself to as many dressage clinics as possible. Penele has cliniced with German O-judge Dieter Schule and Dutch Olympian Anky van Grunsven, but Penele believes the most valuable experience is "acquired through competitions.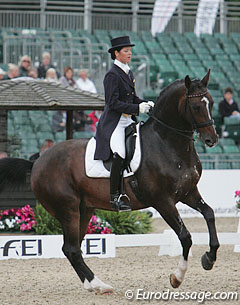 Riding around 5 to 6 horses per day, Airisa spends the rest of her day training other riders from surrounding nations.
"I have riders from Estonia and Russia who come to train with me," she explained. "My motto in training is patience, as well as finding an individual approach to each horse."
Without much attention paid to equestrian sports in Latvia, it has been very difficult for Airisa to attract sponsors and all horse purchases and participation in competitions are  paid for out of the family's budget.
"There is still a lot of uncertainty regarding my future in dressage," she admits. "I would of course like to train another horse up to Grand Prix level.  here is a saying: If you want to make the God laugh, tell him about your future plans. I will try my best at everything I do and only time will tell how things work out."
by Sarah Warne for Eurodressage
Photos © Astrid Appels - No reproduction allowed
Related Links
Milczarek Wins 2011 Central European League World Cup Finals in Warsaw
Lithuania Celebrates Dressage Come Back with 2012 CDI Vazgaikiemis
Airisa Penele's international show results