American Dressage News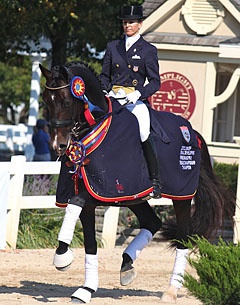 Lisa Wilcox and Horses Unlimited's Pikko del Cerro HU have been selected to receive this year's Anne L. Barlow Ramsay Annual $25,000 Grant.  The purpose of the Grant is to showcase talented American-bred horses ridden by United States citizens, by providing money to train and compete in Europe.
Lisa and Pikko del Cerro HU won the 2011 USEF Developing Horse National Championship and the 2012 USEF Developing Grand Prix Horse National Championship.  To further their development and reach their goal of becoming a successful international Grand Prix team, Lisa and Pikko del Cerro HU will train with Ernst Hoyos in Germany in 2013.  Lisa also plans to compete at CHIO Aachen, CDI Rotterdam, and CDI Lingen.
"I am so excited about receiving this grant," said Lisa.  "By training in Europe for two months, we will have a stellar opportunity to refine our skills and abilities, as well as introduce ourselves to the European judges and competitive scene.  Having the opportunity to train with Ernst Hoyos on a daily basis will provide Cerro and I the benefit of Ernst's consistent training.  This consistency results in a polishing of skills that can only be obtained under these circumstances."
Anne Sparks, owner of Horses Unlimited in Albuquerque, NM, said, "As a breeder who is actively involved in the breeding industry, as well as every aspect of my own program, I recognize how hard it is to produce top quality horses that have the opportunity to reach the international dressage ring.  Pikko del Cerro HU was born at my farm in New Mexico and I thought from the beginning that he was special.  Now that Cerro is competitive at the Grand Prix level, it is important that he be seen not only at CDI's in this country but in Europe as well.  It is such honor that The Dressage Foundation has given Lisa and Cerro the Anne L. Barlow Ramsay Grant to allow us the opportunity show the Europeans the caliber of horses that the American breeders are producing."
"Dr. Ramsay's gift to The Dressage Foundation has enabled us to provide important financial support to American-bred horses and their riders.  Congratulations to Lisa and Horses Unlimited on their selection to receive this year's grant.  We are excited to see the ongoing progress that they will make in the coming months and years," said Jenny Johnson, Administrative Director of The Dressage Foundation. 
Dr. Anne Barlow Ramsay (FL) established a Charitable Remainder Unitrust with The Dressage Foundation in 1999.  The remainder funds were designated to come to The Dressage Foundation ten years later and those funds were used to start the Anne L. Barlow Ramsay Grant.  In 2009, Dr. Ramsay established a second Charitable Remainder Unitrust, with the remainder funds coming to The Dressage Foundation in 2019, to continue her schedule of $25,000 annual grants into the future years.
Related Links
Wilcox and Pikko del Cerro Win 2012 U.S. Developing Grand Prix Horse Championship
Wilcox and Pikko del Cerro Win Inter II at 2012 U.S. Developing Horse Championships
Lisa Wilcox Back in the Spotlight with Pikko del Cerro HU
Related Links