FEI Dressage News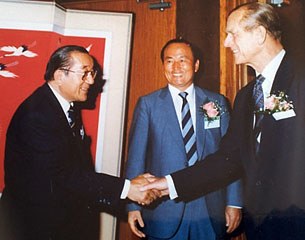 General Johnson Kim (KOR), retired FEI judge, passed away recently at the age of 85. General Kim was born in 1927 and his involvement in equestrian sport dates back to his school years when he won various national competitions.
After graduating from Korea University, he joined the national military academy to prepare for the 1952 Olympic Games but was prevented from doing so by the Korean War.
Until his retirement from the FEI in 1997, General Kim was an FEI official international judge in Jumping, an international judge in Dressage, an international candidate judge in Eventing as well as an international course designer in Jumping. He served as chef d'équipe to the Korean team at several major international events, including the 1984 Olympic Games in Los Angeles. He was member of the ground jury for Jumping at the 1988 Olympic Games in his home city of Seoul and also acted as the course designer for the equestrian portion of modern pentathlon at the same Games.
General Kim translated the FEI Rules for Jumping Events into Korean and between 1970 and 1984 represented his country at numerous FEI General Assemblies.
"General Kim was a man ahead of his time," FEI Director of Jumping John Roche said. "The welfare of the athletes was of great importance to him and he proposed that military riders should wear protective headgear in competition over 20 years ago."
The FEI expresses its sincere condolences to General Johnson Kim's family, the Korean Equestrian Federation and the Korean equestrian community.
Related Links
Sungold Sold to Korea
Anders Dahl's Bukowski Sold to Korea
Ganimedes, The Magnificence of Movement