Norwegian Dressage News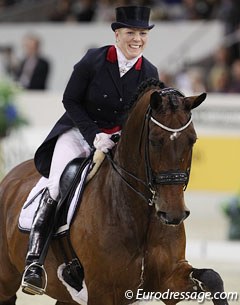 Norway's number one Grand Prix rider Siril Helljesen has sold her top horse Dorina to Evelyn Haim-Swarovski in Austria. After fulfilling a dream by competing at the 2012 Olympic Games, Helljesen received an offer she couldn't refuse.
"I decided to sell because it gives me good opportunities," Helljesen told Eurodressage. "This was a difficult and emotional decision to make, but I feel in the end it's the right one and I am happy with my decision."
The 33-year old Helljesen and her 10-year old Danish warmblood mare Dorina (by Don Schufro x Ragtime) brought Norwegian dressage to unprecedented heights. The combination competed for Norway at the 2011 European Dressage Champions in Rotterdam, the 2012 World Cup Finals in 's Hertogenbosch and 2012 Olympic Games in London.
Siril discovered Dorina as a 3 1/2-year old and has trained her up to Grand Prix under the tutelage of British Paul Fielder.
"I have experienced and learned so much with this wonderful horse. She is one in a million," Helljesen explained. "I am forever grateful for the good memories and each, adventurous day with her. She changed my life."
The bay mare, which is bred by Eigil Bugge Skjødt, will now begin a new life as an experienced competition horse for Evelyn Haim-Swarovski who owns a beautiful dressage facility in the Austrian Alps in Fritzens.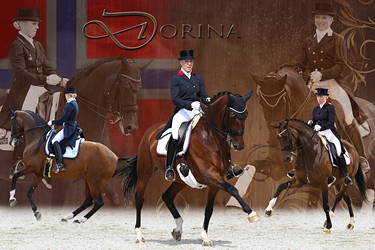 " I feel the best of Dorina is yet to come and I love my horse so very much," said Siril. "I wish Dorina's new owner all the best with this fantastic horse."
Helljesen is now able to invest in her future and is looking forward to returning to the show ring with some new youngsters.
"I would like to use this oppurtunity to thank all the people who have helped me on my journey to the Olympic Games and our other successes," she explained. "I look forward to returning to the international scene in the near future."
Photos © Astrid Appels
Related Links
Siril Helljesen Backed Up by Norwegian Dressage Enthusiasts
Siril Helljesen Officially Selected for 2012 Olympic Games
Helljesen and Dorina Award Recipients at 2012 Norwegian Horse Gala