Oldenburg Breeding News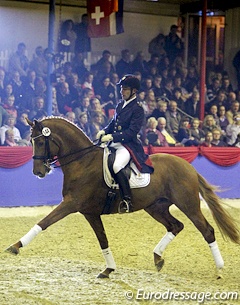 The Oldenburg sire Don Schufro and the KWPN sire Jazz are the leaders of the 2012 German Breeding Value Index, which was released by the breeding department of the German Equestrian federation at the end of November.
The Breeding Value index is created based on the stallion's own performances, as well as the achievements of the offspring. The German Equestrian Federation looked at the results of 640,000 horses in its database with over 12 million entries for show results. 81,000 entries came from mare breed and performance tests and 7,400 entries from stallion performance testings.
"The goal of the breeding value index is to estimate the hereditary performance value of a stallion and give the breeders the necessary tools to select a stallion," the FN explained.
Don Schufro (by Donnerhall x Pik Bube I) and Jazz (by Cocktail x Ulster) both score the highest amount of points, 170, but Don Schufro has a higher performance reliability (96%) than Jazz (85%). Only two KWPN bred sires are able to rank high on the German Breeding Value index, Jazz and Krack C.
The second highest scoring stallion is the Hanoverian Londontime (by Londonderry) with a breeding value index of 169 points and a reliability 91%.
Photo © Astrid Appels
2012 German Dressage Breeding Value Index
Ballettmeister, Hanoverian by Brentano II – Breeding Value 151 Points, Reliability 79  %
Belissimo M, Rhinelander by Beltain – Breeding Value 153 pts, Reliability 97  %
Beltoni, Hanoverian by Belissimo M – Breeding Value 156 pts, Reliability 80  %
Benetton Dream, Hanoverian by Brentano II – Breeding Value 156 pts, Reliability 80  %
Breitling W, Hanoverian by Bismarck – Breeding Value 164 pts, Reliability 89  %
Burlington, Hanoverian by Breitling W – Breeding Value 165 pts, Reliability 83  %
Damon Hill, Westfalian by Donnerhall – Breeding Value 167 pts, Reliability 92  %
Damsey, Hanoverian by Dressage Royal – Breeding Value 160 pts, Reliability 81  %
Dancier, Hanoverian by De Niro – Breeding Value 155 pts, Reliability 95  %
Dancing Dynamit, Westfalian by Don Bedo I – Breeding Value 162 pts, Reliability 92  %
Danone II, Hanoverian by De Niro – Breeding Value 151 pts, Reliability 82  %
Diamond Hit, Oldenburger by Don Schufro – Breeding Value 151 pts, Reliability 97  %
Dollmann, Westfalian by Davignon II - Breeding Value 155 pts, Reliability 87 %
Don Davidoff, Oldenburger byDon Gregory – Breeding Value 150 pts, Reliability 85  %
Don Diamond, Württemberger by Diamond Hit – Breeding Value 153 pts, Reliability 84  %
Don Primero, Oldenburger by  Donnerhall – Breeding Value 152 pts, Reliability 98  %
Don Schufro, Oldenburger  by Donnerhall – Breeding Value 170 pts, Reliability 96  %
Donautanz, Hanoverian by De Niro – Breeding Value 152 pts, Reliability 82  %
Dr.Jackson D, Württemberger by Dream of Glory – Breeding Value 154 pts, Reliability 93  %
Dream Catcher, Oldenburger by Day Dream – Breeding Value 150 pts, Reliability 72  %
Duino, Oldenburger by  Donnerschwee – Breeding Value 153 pts, Reliability 80  %
Estobar, Westfalian by Ehrentusch – Breeding Value 156 pts, Reliability 84  %
Flatley, Rhinelander by Fürst Piccolo – Breeding Value 153 pts, Reliability 80  %
Friedensritter, Westfalian by Fürst Piccolo – Breeding Value 153 pts, Reliability 86  %
Fürst Nymphenburg,  Hanoverian by Florencio I – Breeding Value 158 pts, Reliability 78  %
Fürst Romancier, Oldenburger by Fürst Heinrich – Breeding Value 150 pts, Reliability 80  %
Hampton, Hanoverian by His Highness – Breeding Value 156 pts, Reliability 80  %
Hofrat, Trakehner by Gribaldi – Breeding Value 150 pts, Reliability 95  %
Jazz, KWPN by Cocktail – Breeding Value 170 pts, Reliability 85  %
Karolinger I, Trakehner by Latimer – Breeding Value 159 pts, Reliability 76  %
Krack C, KWPN by Flemmingh – Breeding Value 150 pts, Reliability 84  %
Londontime, Hanoverian by Londonderry – Breeding Value 169 pts, Reliability 91  %
Lord Fantastic, Rhinelander by Lord Loxley I – Breeding Value 152 pts, Reliability 88  %
Lord Loxley I, Rhinelander by Lord Sinclair I – Breeding Value 157 pts, Reliability 95  %
Münchhausen, Trakehner by Hohenstein – Breeding Value 156 pts, Reliability 96  %
Pasolongo, Bavarian by Pacelli W – Breeding Value 152 pts, Reliability 83  %
Real Diamond, Hanoverian by Rohdiamant – Breeding Value 163 pts, Reliability 86  %
Rhodes Scholar, Hanoverian by Rohdiamant – Breeding Value 151 pts, Reliability 85  %
Rock Forever, Westfalian by Rockwell – Breeding Value 163 pts, Reliability 91  %
Rosandro, Hanoverian by Rosario – Breeding Value 158 pts, Reliability 75  %
Samba Hit II, Brandenburger by Sandro Hit – Breeding Value 152 pts, Reliability 87  %
Sancisco, Oldenburger by Sandro Hit – Breeding Value 155 pts, Reliability 92  %
Sarkozy, Hanoverian by Sandro Hit – Breeding Value 155 pts, Reliability 77  %
Scolari, Hanoverian by Sandro Hit – Breeding Value 153 pts, Reliability 90  %
Showmaker, Westfalian by Show Star – Breeding Value 150 pts, Reliability 73  %
Sir Donnerhall, Oldenburger by  Sandro Hit – Breeding Value 160 pts, Reliability 98  %
Welt Hit I O, Oldenburger by Weltmeyer – Breeding Value 150 pts, Reliability 90  %
Welt Hit VI, Oldenburger by Weltmeyer – Breeding Value 162 pts, Reliability 76 %
Related Links
Maren Engelhardt: Numbers Don't Lie, or Do They?
Gero Busselmann: Quo Vadis, Are We Approving the Wrong Stallions?
Real Diamond Leads 2010 German Breeding Value Index
Cocktail Leads KWPN Breeding Index