2013 CDI West Palm Beach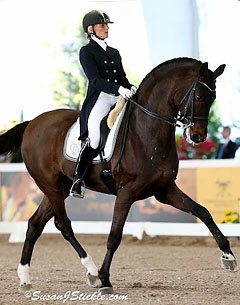 As Italian dressage star Silvia Rizzo wraps up her impressive South Florida debut, the combination of high-level competitive opportunities and a friendly, supportive atmosphere at shows has her already looking forward to next year.
The proximity to the beach doesn't hurt either, and Rizzo has been taking in the Florida attractions between shows and training sessions on the striking Oldenburg stallion Donnerbube 2. The balance of hard work and a little relaxation seems to be working, as Rizzo and "Bubi" have put in some of their best performances to date.
"I've broken three of my personal records here: Grand Prix score in a 5*, Grand Prix Special score in a 5*, and Kür score in a World Cup event," Rizzo said. "Bubi loves it here," she added, explaining that he enjoys the quiet atmosphere where he is stalled at the Jim Brandon Equestrian Center in Palm Beach County. Along with Rizzo, Bubi has become a fan favorite and regularly poses for photos with his admirers.
Rizzo has put together a series of steadily improving performances in Grand Prix competition. Most recently, she and Bubi took seventh in the Grand Prix on a sweltering hot day at the Wellington Classic Dressage Spring Challenge CDI3* (Feb. 8-10), and then put all the pieces together for a standout third-place effort in the Grand Prix Freestyle. Other season highlights include top scores and a fifth place finish in the Grand Prix Freestyle at the World Dressage Masters CDI5* Palm Beach, along with seventh place finishes at the Wellington Dressage CDI-W and Gold Coast Opener CDI-W.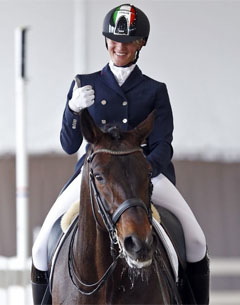 Rizzo's success in Florida has helped her move up the Reem Acra FEI World Cup Dressage Standings. Her 23 points place her 15th in the competitive Western European League.
"I want to thank everybody for the hospitality and for the friendship here," Rizzo said. "I want to thank the organizer and everybody that supported me, as well as the Americans, who were so friendly to me. I really enjoyed meeting new riders and establishing new connections."
Michele Betti, Rizzo's partner and the former chef d'equipe for the Italian eventing team, noted that the number and proximity of competitions in South Florida make it an appealing destination for European competitors, who often have to travel long distances between competitions.
"When you are here, all the competitions are close together, so you don't have to travel a lot," he said. "In Europe, we have a lot of competitions, but for example, when we have to go to Spain, we have to drive nearly 2,000 kilometers. The weather is another thing, honestly. I spoke with some people in Germany this morning and it was minus six (degrees Celsius). So it's difficult."
"It's important to know other people, to open a little bit the mind, and try to understand," Betti continued. "For example, here we can meet some people from Venezuela or Canada. We don't have that opportunity when we are in Europe - they don't come there."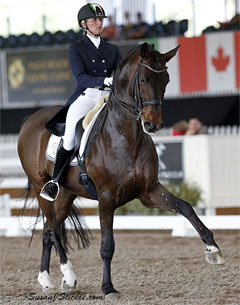 Rizzo and Betti credit the ample opportunities to compete as key to Rizzo's improvement. "I think it's a big help to compete one week after the other," Betti explained. "You are all the time more focused. And if you learn that something is not so good, you have the opportunity to practice immediately, and you see how it's working the week after. Every time you have to find something new to improve."
"If you have one competition after two months, it's much more difficult," he pointed out. "You lose time, in one sense. You arrive in the next competition, you have forgotten which is your problem of the competition before."
Spectators charmed by Rizzo's bubbly personality, as well as those who haven't yet seen the fashionable blonde in action, will be happy to hear that she plans to set up shop in South Florida for several months next year. She will bring several horses from Hof Marabunta, her base in Germany, to train and compete. Rizzo and Betti, an accomplished eventing and show jumping trainer, both look forward to taking on American students, who will benefit from the pair's expertise and international experience.
Photos © Sue Stickle
Related Links
Scores 2013 CDI West Palm Beach
Silvia Rizzo Soaking Up the Florida Sun and Show Experience
Europeans Kittel and Rizzo Arrive in Florida for the 2013 Dressage in Florida Circuit