2013 CDI Hagen
Sweden's Patrik Kittel and his leading lady Deja rose to take out the Intermediaire I at the 2013 CDI Hagen hosted at Hof Kasselmann on 17 )- 21 April. After placing second in the Prix St Georges with a 72.974%, Kittel produced an Inter I score of 73.3% despite some detours. The seasoned international rider went off course twice, but that did not withhold him from winning.
"Hagen was our first of the major German shows and even when her rider went the wrong way twice, Deja stayed so relaxed and focused and on my side the entire time," Patrik told Eurodressage. "She really did an amazing job, that was a huge highlight for the show!"
Showing that even the world's top riders are also human, Patrik kept his cool even after he misinterpreted judge Axel Steiner's directions after his first program error. In the end it was decided by the panel of judges only to take one program error into account for Kittel's total score.
The Appelhulsen based Swede feels lucky to have a horse like Deja with such an amazing work spirit. He is very grateful to her owner Marie Haward for this opportunity. "Deja came to me after having some months off in Marie Haward's fields," Kittel explained. "She did the young horse World Championships but had some big difficulties learning the flying changes and it took a long time for us to fix this, but once that was improved the rest was easy. Plus, the best thing about her is that she is so supple so you don't have to train her so much. I only start about 10 days before the show, but otherwise the work is more 
jogging, going out, and water training."
The 9-year old daughter of Silvano x Don Schufro is "a dream to ride" according to Patrik. He is also glad to be on board a Swedish bred horse. "The fact that the breeder and owner of Deja is such a proud person, makes it all the more enjoyable," he said. "Marie had tears in her eyes in Hagen, that was really very cool."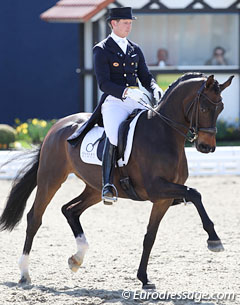 Certain that he has found his perfect match, Patrik says the mare's greatest strength is that she has no weakness and he cannot even remember a time when she acted like a mare. 
"She has three really good gaits and super talent for the difficult things."
Patrik would of course like the take Deja all the way to Rio and feels if the mare stays happy, they will go for it! 
"I think that she can take a medal, but you will only really know that when you are there," he said. "Scandic took one and I don't think anyone thought about that, but he is a horse that fights for you and in the end that is what got us the medal."
With many good horses currently training with him in Germany, Patrik knows he has talent coming, but of course some must be sold as this is what the Olympian does for a living. "So many clients trust me and it's fun to go through the list of people and see how many you have sold horses for, or helped in some way," he said proudly.
Text by Sarah Warne
Photos © Astrid Appels - No Reproduction Allowed
Eurodressage photographer Astrid Appels took photos of all combinations competing at the CDI Hagen. Contact us if you are interested in prints of your photos!
Related Link
Eurodressage Coverage of the 2013 CDI Hagen