2013 Danish Young Riders Championships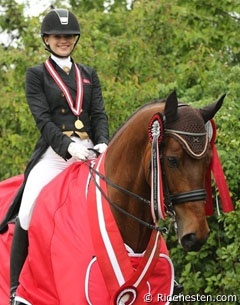 Junior rider Alexandra Sorensen and Young Rider Cathrine Dufour won the gold medal at the 2013 Danish Junior and Young Riders Championships held in Ringsted, Denmark, on 24 - 26 May 2013. For Sorensen it was her first major title in her career, whereas Dufour has been the unbeatable young rider in Denmark the last few years.
The 17-year old Alexandra Sorensen surfaced at the top of the overall junior riders' ranking after placing first in the team test (72.207%), fourth in the individual (71.228%) and first again in the kur (74.625%). Sorensen won the title aboard the 10-year old Danish bred Camiro Mandoe (by Future Cup x Alfarvad Champion).
Amanda Overgaard and the 12-year old Danish bred Horsebos Smarties (by Gribaldi x Ramiro's Bube) were the runners-up with solid scores of 69.144%, 71.535% and 73.275%. Sille Engermann and the German bred 10-year old Fernet (by Furst Heinrich x Fagott) slotted in third and grabbed the bronze after scoring  69.730%, 71.316% and 72.675%.
Hattrick for Dufour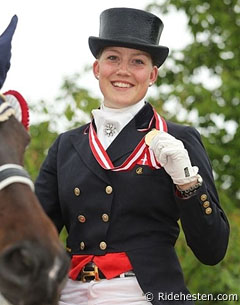 Dufour claimed her third consective Young Riders' title, this year aboard Kristine Sinding's 8-year old Danish bred mare Orthilia (by Gribaldi x Donnerschlag). The pair posted top scores on the board and got  71.895% in the team test,  71.474% in the individual test and 76.900% in the kur to music, in which Dufour rode to classical music in her signature slow  speed style in trot.
The silver medal went to Sweden based Anna Zibrandtsen on the chestnut Hanoverian mare Capriciella (by Cordoba). Last year's Danish Junior Riders' Champion Zibrandtsen made a smooth transition to young riders' level. In Ringsted she improved her scores day by day, going from 68.605% to 70.368% and 73.100% in kur to finish second overall. 
Cecilie Lyndrup and her experienced Danish warmblood Lambada (by Lobster) landed the bronze medal after finishing second in round 1 (69.447%), fourth in round 2 (67.474%) and fifth in the Kur (69.450%).
Photos © Ridehesten
Results - 2013 Danish Junior and Young Riders Championships
Junior Riders
1. Alexandra Sorensen - Camiro Mandoe -  72.207 -71.228 - 74.625 --- 218.06
2. Amanda Overgaard - Horsebos Smarties - 69.144 - 71.535 - 73.275 --- 213.954
3. Sille Engermann -  Fernet S -  69.730 - 71.316 - 72.675 --- 213.721
4. Emilie holm toft - Ramia Lox -  70.045 - 70.482 - 71.275 ---  211.802
5. Maja Andreasen - Skjoldsgaard Monte Vo -  69.955 -  69.868 -  69.300 --- 209.123
6. Kristine koch bejtrup -  Cavaler -  67.973 -  69.123 - 70.550 --- 207.646
7. Caroline B. Smidt - Donna Charian -   68.108-  67.456 - 71.425 --- 206.989
8. Maria Vesterholm - Pasteur -  69.865 -  69.693 - 65.075 ---  204.633
9. Maria Fauerholm Christensen  - Samarant - 69.414 - 71.447 - 63.625 --- 204.486
10. Marie Skov Olesen - Brizard -  67.973 - 68.640 - 67.125 --- 203.738
11. Caroline Aarosin - Daydream -  67.973 - 66.360 - 67.300 --- 201.633
12. Caroline Vang Klemmensen - Ozzy Cooper - 65.676 - 67.939 -  67.800 --- 201.415
13. Michala Mejlgaard Jensen - Lindehojs Leneiux -  65.270 - 66.930 -  67.525 --- 199.725
14. Oliver Rosenkilde Nissen - Christian af Magnushokj -   66.261 -  66.228 -  66.700  --- 199.189
15. Camilla Hylager - Calexia Vibeholm - 66.802 -  66.228-   66.025 --- 199.055
Young Riders

1. Cathrine Dufour - Atterupgaards Orthilia - 71.895 -  71.474 - 76.900 --- 220.269
2. Anna Zibrandtsen - Capriciella -   68.605 - 70.368 - 73.100 --- 212.073
3. Cecilie Lyndrup - Lambada - 69.447 -  67.474 - 69.450 --- 206.371
4. Pernille Teidor Olesen - Don Dino -   68.842 - 67.500 - 69.750 --- 206.092
5. Isabella Holtze -  Hevi's Futuro -  67.947 - 65.921 - 69.925 ---  203.793
6. Emma Holm Westergaard - Pantani - 69.342 -  66.447 - 67.825 --- 203.614
7. Louise Lunde Pedersen - Royal Flush V -   66.053 -  67.105 - 64.450 --- 197.608
8. Andreas Kragekjær - Rozo Soneca -   67.079 - 63.711 -  66.775 --- 197.565
9. Nynne Ebbenæs - Fleedwood -  65.632 -  65.500 -  66.175 --- 197.307
10. Josefine Friberg - Langagers Lorambo -   65.395 - 64.211 - 67.450 --- 197.056
11. Charlotte Aarestrup Bruun - Tai Nin - 66.053 -  62.868 - 67.925 --- 196.846
12. Mie H. Iversen - Alpha de Jeu -    67.000 - 65.474 - 64.175 --- 196.649
13. Malou Nakszynski - Stenagers Ferrazzo - 65.868 - 64.553 - 64.825 ---- 195.246
14. Jessica Vang Starbeck - Vesuv -  65.421 - 64.342 - 64.950 --- 194.713
15. Kathrine Gert Nielsen - Miss Zuki -  65.237 -  65.342 - 60.950 --- 191.529
Related Links
Danish Junior and Young Riders A-Team Riders Announced
Riders Named for First 2013 Danish Junior/Young Riders Training Day
Cathrine Dufour Makes a Clean Sweap at the 2013 CDI Addington