2013 Danish Dressage Championships
Scoring marks that make A-team riders envious, young rider Nanna Skodborg Merrald led the cream of the crop with a triple victory in the under-25 section at the 2013 Danish Championships in Broholm on 7 - 9 June 2013. Skodborg Merrald was the clear overall winner with mid 70 percentage scores and followed by fellow Danish shooting stars Daniel Bachmann earning silver and Sofie Jeppesen bronze.
"I had a very good feeling already at home," Nanna told Eurodressage. "Millibar was in super shape and at the competition he was very much with me and did not make any mistakes in the program."
Winning the Under-25 Intermediaire II, Short Grand Prix and Grand Prix Kur with 73.184%, 75.558% and 79.725%, Nanna finished with an overall 76.156% and felt her great scores were due to the pair's recent improvements in some of the most difficult movements. "The piaffe and passage has been improving ever since Munich and I felt the canter was far more relaxed," she said.
With her sister putting together the music for her Grand Prix freestyle just two weeks ago, Nanna and sister Sandra Merrald were eager to see the judge's reaction. "In the beginning and in the end of the freestyle the music is Emmilie De Forest's "Only Teardrops", the winning song of the Eurovision Song Contest 2013, so we were very exited to see what the judges thought of our choice. Luckily it was very positive," Merrald added.
Millibar, a 12 year-old Danish bred gelding by Milan x Liberty Dane, has now been with Nanna since he was six. In the beginning Nanna says he was a very difficult horse with a lot of energy and an own will. "This is now his greatest strength and using this we have learnt together and competed at Grand Prix level for the first time a year ago," said the 20-year old, who also competed at Young Riders' level.
Training with Michael Søgaard, Nanna plans to compete in the Under-25's in Aachen in two weeks and then at the 2013 European Championships in Herning in August.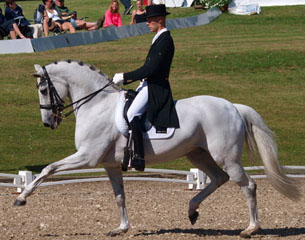 Taking triple second place, Daniel Bachmann Andersen and the 12-year old Danish warmblood mare Donna Silver (by Don Schufro x Willemoes) finished with a strong average of 72.688%, putting the silver medal on his silver lady!
"I was so happy to receive the silver medal," Bachmann told Eurodressage. "I felt that my highlights were in our passage and in our flying changes. I was also very happy about the softness of my horse Donna over all three days."
Donna Silver is owned by Italy's Silvia Rizzo and Daniel feels extremely honoured to be given the opportunity of riding this fantastic horse. "I'm currently training Donna Silver in Denmark with Andreas Helgstrand and I feel Andreas is a super trainer who helps me at lot both at home and at shows," he explained. 
Jeppesen and her 15-year old Danish bred First As (by First Flair x A-Dur) have been competing at Grand Prix level already for three years and in Broholm they toasted that experience with bronze. "I think I had a fine show," said Sofie. "However, I did have a few mistakes that cost me on the day," she admitted.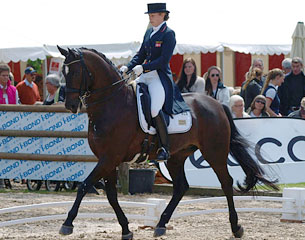 Placing third in all three rounds, Sofie finished her triple third with an average of 71.320% and was very happy to be part of the award ceremony on the final day. "The highlight of the tournament really was the great prize ceremony with all the fine gifts and the good mood of the audience," she said. "The sun was shining and everyone was happy. It was a lovely experience."
Also training with Michael Søgaard, Sofie has spent the last nine years under Michael's guidance. With First As she has found her stride also in the competition ring. "What makes First special to me, is that he always does his best," she added.
The Danish Under 25 podium trio is set to compete in the Under 25 division at the 2013 CDIO Aachen in June and 2013 European Championships in Herning in Augsut.
"Daniel, Nanna and I have known each other since we were Pony Riders and have always wanted and wished the best for each other. It is going to be fantastic to ride together as a team," said Jeppesen.
Photos © Dansk Rideforbund
Related Links
Scores 2013 Danish Dressage Championships
Anna Kasprzak Toasts Triple Victory and Wins 2013 Danish Dressage Championships