2013 European Junior and Young Riders Championships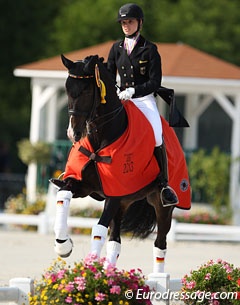 (FEI Press Release) -- Johanne Pauline von Danwitz more than lived up to expectations when leading Germany to triple gold in the Junior competitions at the FEI European Dressage Championships for Young Riders and Juniors 2013 in Compiegne, France.  And Denmark's Cathrine Dufour showed that her 2012 Young Rider double of individual medals was no fluke when repeating the success she enjoyed at Berne, Switzerland twelve months ago by winning both the Individual Final and the Freestyle. The Dutch beat their old rivals from Germany to take the Young Rider team title, and, after a ten-year absence from the podium, Belgium claimed Young Rider team bronze.
The Stade Equestre du Grand Parc in Compiegne, northern France, was bathed in sunshine throughout the five-day fixture which attracted competitors from 21 nations.  Austria, Belarus, Belgium, Bulgaria, Czech Republic, Denmark, Estonia, France, Germany, Great Britain, Hungary, Italy, Luxembourg, Netherlands, Norway, Poland, Russia, Spain, Sweden, Switzerland and Ukraine all fielded representatives, and the the performances at the top end of the scoreboards were of exceptional quality.
There were six sets of medals up for grabs, with Team, Individual and Freestyle titles to be decided in both divisions.
Junior Team Championship
Her march to triple-glory began when von Danwitz produced the highest score of the Junior team competition with Habitus whose own record is a story in itself.  With owner Louisa Luttgen in the saddle, this great horse won four European gold medals in a row including Young Rider team last summer.  Von Danwitz got the ride at the end of 2012, and with Luttgens' assistance quickly established a tremendous new partnership. Together the 17-year-old rider, and the horse who is only one year younger, have been showing fantastic form throughout the 2013 season both nationally and internationally, and their star continued to shine brightly at Compiegne.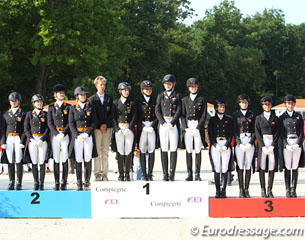 Just one of the Ground Jury, Judge at C Anette Iacobeus from Sweden, did not place them first in the team competition in which they scored 74.081 to set their country on the road to victory.  Claire-Louise Averkorn and Condio B produced the second-best score of the class when posting 72.703, so when Anna-Christina Abbelen and Fuerst on Tour racked up a mark of 70.459 then the 70.027 collected by Jessica Krieg and Florence was the discard and the Germans were clear winners.
Their final team tally was 72.414, leaving Germany less than two full marks ahead of the silver medallists from The Netherlands - Jeanine Nekeman (Vlingh), Jeanine Nieuwenhuis (Hexagon's Baldacci), Jasmien de Koever (TC Take it Easy) and last year's triple gold medallist Dana van Lierop with a new horse (Sting).  Nekeman's excellent mark of 72.405 saw her take third place in the individual rankings.
Team bronze went to Denmark's Alexandra Sorensen (Camiro Mandoe), Emilie Holm Toft (Ramira Lox), Caroline Smidt (Donna Charian) and Amanda Overgaard (Horsebo Smarties) with a final score of 68.865.  Norway finished just outside the medal placings in fourth, team pathfinder Alexandra Andresen, who was a double gold-medallist at the recent Nordic Baltic Championships in Flyinge, Sweden secured fourth place individually with the nine-year-old stallion Belamour when scoring 71.054.
The Germans were silver medallists at these Championships in 2012, so Chef d'Equipe Maria Schierhölter-Otte, was delighted to get back on top again this time around. She described the victory as "a nice surprise. Of the four riders of the team, three had already performed in the Pony Riders championships, so they were a little accustomed to this type of test", she explained, adding that there was "great team spirit" in her side.  Team trainer, Hans-Heinrich Meyer zu Ströhen, added that "a team is gradually built with the parents and coaching techniques... it's a long process, but it is always easier to work with young riders because of their age, all they want is to do well."
A total of 14 nations competed.
Junior Individual and Freestyle
Von Danwitz and Habitus never looked back, racking up a strong 75.789 to take Junior Individual gold by a significant margin and earning the top score of all five judges - Raphael Saleh (FRA) at E, Katrina Wuest (GER) at H, Wojtek Markowski (POL) at C, Kjell Myrhe (NOR) at M and Sandy Phillips (GBR) at B.  Wuest gave the winning combination the highest mark of all, 77.763, as Habitus cruised through another lovely performance that included spectacular trot extensions.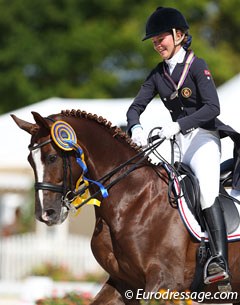 Norway's Andresen and the chestnut stallion Belamour really rose to the occasion to take Individual silver with a mark of 72.974 while bronze went to Dutch newcomers Jeanine Niekman and the extravagant mover Vlingh who put in a great performance to earn a mark of 72.921.  Germany's Anna-Christina Abbelen and Fuerst on Tour just missed out on the medals when fourth with 72.500 and next down the line was Great Britain's Charlotte Fry with Remming who created a very pleasing picture to post 72.368.
And von Danwitz and Habitus were in a league of their own again in the Freestyle as Germany grabbed both gold and silver.  Judge Katrina Wuest put Habitus in second place here, instead preferring the performance of second-placed Anna-Christina Abbelen and Fuerst on Tour.  But the remaining four Ground Jury members opted for the Individual titleholder so von Danwitz clinched it by a margin of 1.75 points while Abbelen was awarded silver. Andresen was most impressive once again, earning bronze for Norway when posting 78.400, and fourth place went to Spain's Juan Matute Guimon and Don Diego with 76.175.
Dutch team silver medallists Jasmien de Koeyer (TC Take It Easy) and Jeanine Nieuwehuis (Hexagon's Baldacci) slotted into fifth and sixth.
Young Riders Team Championship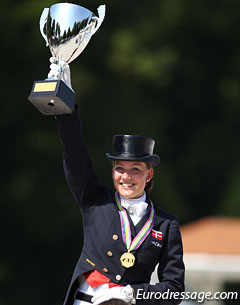 Denmark's Dufour had to bide her time before rising to prominence in the Young Riders Championship, placing seventh individually in the team contest in which her country filled fifth place from the 11 starting nations.
It was the Dutch who dominated here, led by the experienced Stephanie Kooyman and her powerful 10-year-old Dutch Warmblood gelding Winston. Kooyman was ranked first by three of the judging panel and second by the other two to register a score of 75.158 which proved unbeatable in this competition.
That was backed up by 71.421 from team-mate Anne Meulenduks riding President's MDH Avanti who finished fifth individually and when Debora Pijpers and Besterly's Now I'm Here posted 70.816 for eighth place, then the 68.316 collected by Rosalie Mol and Legend was discarded for a winning team tally of 72.465.
The Dutch only managed team bronze at last year's Championships so this was a very pleasing result for Chef d'Equipe Tineke Bartels who said afterwards "it's always difficult to guess the results because each country sends their best teams.  We are very happy and proud of this medal!"
Last year's champions from Germany had to settle for silver this time around when their team score of 71.228 left them just 1.23 points behind.  German pathfinders Juliette Piotrowski and Sir Diamond were awarded first place by Norway's Myhre Kjell, second by Poland's Wojtek Markowski and third by The Netherlands' Mariette Sanders, but were marked into fourth and sixth places by Isabelle Judet from France and Great Britain's Sandy Phillips.  Their individual score of 73.079 left them second-best on the day and gave an indication of what was coming down the line for this pair as the Championships progressed. 
With 71.105 from team-mate Charlott-Maria Schurmann (Edward 28), and 69.500 for Florine Kienbaum (Don Windsor) they could drop the 67.684 from Vivien Niemann (Wirsol's Cipollini) for a final team tally of 71.228 and that was plenty good enough for silver while Belgium claimed the bronze with 69.711.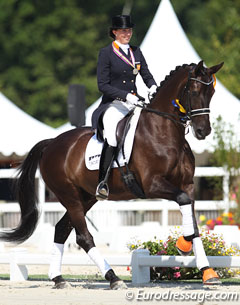 An excellent mark of 73.953 from Jorinde Verwimp and Tiamo seriously boosted the Belgian position, so when Alexa Fairchild and Timor added 68.447 and then Eline de Conninck and Don Warohn EDC posted 67.642 and Kirsten Adriaenssens and Roycroft were awarded the discard of 66.158 they would find themselves on the podium.  It was quite an achievement for Chef d'Equipe Laurence van Doorslaer whose side would bring home Young Rider team medals to Belgium for the first time since 2003.
Winning team manager Bartels reflected on the day. "I know the gap with Germany (silver medallists) was very small at the end, but as usual we didn't check the scores of the other riders to avoid any pressure. My riders know what to do, I try to explain to them that they should not seek to be even better. They are young but mentally strong and it is a very important quality in the competition. The tests to come will be difficult because after the team event, they will have to compete against each other. But I think we can also get a medal in the individual"  the Dutch team manager said.
Young Riders Individual and Freestyle
She was right about that, but it would not be gold because Denmark's Dufour took command in the Individual Championship and then followed through with another super performance in the Freestyle.
The Danish rider got into her stride to clinch the Individual title with a score of 77.789, pinning Germany's Juliette Piotrowski and Sir Diamond into silver medal position when they earned a mark of 76.421 while bronze went to The Netherlands' Stephanie Kooyman and Winston with 76.395.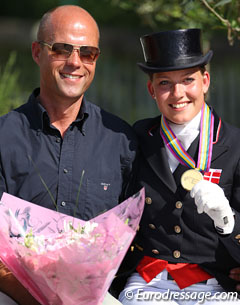 With two silver medals already stashed away Piotrowski was delighted with her results so far. "Sir Diamond is only 8 years old, and I did not think he could do that, I'm really happy with him especially as this is my first European Championship. It's great to be here!" she said.  Kooyman felt her horse, Winston, was a little tired - "but he did fine" she pointed out.  "He was great the first day...now we will see what will happen tomorrow!"  The Netherlands' Anne Meulenduks and President's MDH Avanti finished fourth (74.789), and Sweden's Marina Mattsson and Cassio lined up fifth (74.684).
And in fact Winston upped his game to push Piotrowski's Sir Diamond into bronze position and provide Kooyman with the coveted Freestyle silver medal. 
Dufour and Atterupgaards Cassidy were streets ahead when topping the Freestyle podium with a mark of 83.600, all five judges in complete agreement about who their champion should be.  Kooyman held the lead before Dufour entered the arena, but her mark of 79.225 would only be good enough for silver spot while Piotrowski's 76.425 slotted her into third and bronze medal position.
Fourth place went to Great Britain's Pippa Hutton and Duela (73.200) and fifth to Germany's Charlott-Maria Schurmann and Edward (73.075).
The breathtaking standard of competition throughout these Championships bodes well for the sport of Dressage which continues to go from strength to strength. As Russian international judge, Igor Kogan, said "these are the best young riders in Europe....they are really the hopes for the future of the discipline".
Text by Louise Parkes for the FEI
Text and Photos by Astrid Appels - No reproduction allowed   
Eurodressage photographer Astrid Appels took photos of all
combinations competing at the 2013 European Junior and Young Riders
Championships. Contact us if you are interested in prints of your photos!
Related Link
Eurodressage Coverage of the 2013 European Junior/Young Riders Championships