2013 European Junior and Young Riders Championships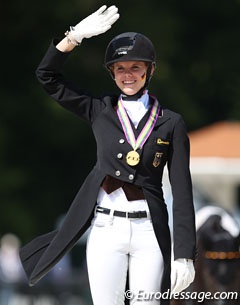 German Johanne Pauline von Danwitz added a third gold medal to her collection after her experienced 16-year old mount Habitus strutted his stuff in the Kur to Music Finals at the 2013 European Junior Riders Championships in Compiegne, France, on Sunday morning 14 July 2013. The silver went to a very strong riding Anna Christina Abbelen, while Norwegian Alexandra Andresen added an individual Kur bronze to her set of medals.
Von Danwitz and Habitus (by Hohenstein x Weltmeyer) rode to elegant but slightly cheesy piano music, which reminded of the soundtrack of a German soap opera. The trot tour had much bending and the rider was able to show off her horse's elasticity with many curved lines and lateral movement combinations. In the extended walk the nose could have been more out. The walk pirouettes were both active, but too big.
The judges' panel, which included Sanders (NED), Saleh (FRA), Wust (GER), Phillips (GBR) and Iacobaeus (SWE), awarded Von Danwitz a massive 81.125%. Four judges had her first, German judge Katrina Wust had her second with a minimal difference to silver medalist Anna Christina Abbelen.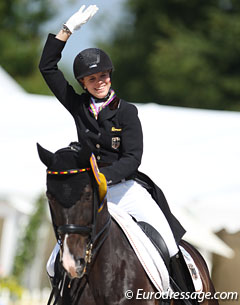 "I rode the same as yesterday without changing anything," a sober Von Danwitz commented after her third golden victory in Compiegne. "I was already very pleased yesterday and am happy to have won." Johanna Pauline disclosed that she is not yet sure whether she will be riding the Luttgen family's Habitus next year.  "I have a young horse in my stable but he's too young (for junior level). We still have to discuss next year with the Luttgens," Von Danwitz explained.
Living only 5 kilometers from Von Danwitz and sitting in the same class in school, Anna Christina Abbelen was ecstatic to share the podium with her class mate. Aboard her Rhinelander registered black Furst on Tour (by Furst Heinrich x Rubioso N), Abbelen executed a wonderful freestyle, riding to well composed Lion King music.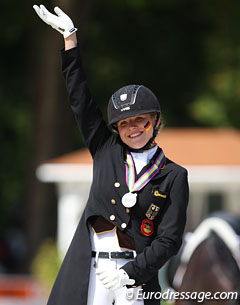 Abbelen and Furst On Tour rode a beautiful trot tour with much relaxation and flow, the horse always being light in the bridle and consistent in the contact. The extended walk was better in rhythm than the collected and the left turn on the haunches was a bit big. The canter work was outstanding with smooth, ground covering uphill changes, an excellent self carriage and difficult lines in her choreography. Abbelen rode an extended canter on the diagonal, transition to a walk pirouette, followed by another extended canter. Her score of 79.375% and the silver medal were well earned.
"This is such a surprise," said a beaming Abbelen. "I was already happy to have qualified for the kur, and to have ridden a successful kur. It's super to finish second." Anna Christina also disclosed that she will be trying a bit of the S-level movements over the winter to check her level, but that the plan for 2014 is to ride one more year at junior level.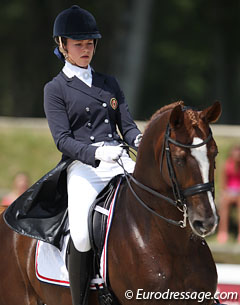 Norwegian Alexandra Gamlemshau Andresen's Westfalian licensed stallion Belamour (by Belissimo M x Lord Sinclair) visible struggled with the heat as temperatures soared to 30° C on the final day of competition in Compiegne. While her chestnut stallion remained extremely obedient and rhythmical in trot, the pezzazz was gone in her test and the horse was less collected in the frame and fresh to the aids. Still, Andresen managed to ride fluent lateral movements and kept a soft contact with the bit. The extended walk was outstanding, the collected walk too open in the frame. Belamour performed very confirmed, straight flying changes. They scored 78.400% for bronze.
"Today was a bonus," Andresen commented about her second medal. "I had no expectations. When I ride I do my best and hope for the best. He was quite tired today because it was very warm." Andresen has one more year to go at junior riders' level next year.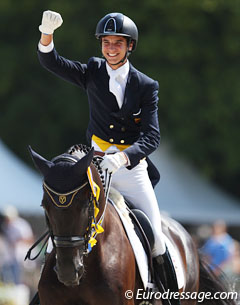 Spanish Juan Matute Guimon made surprising surge to a kur final fourth place, after struggling hard in the team test (62.297 - 52nd!), improving in the individual test (68.974% - 17th) and finishing fourth in the kur with 76.175%. Maybe the enthusiastic singing of the Spanish fans before Matute entered the ring might have put the judges in a positive frame of mind? The sympathetic Spaniard, who has a beautiful seat, rode his Hanoverian bred Don Diego (by Don Frederico x Wie Weltmeyer) to music from Rocky. It suited the horse well, except in walk in which the music overpowered the slow motion tempo of the black gelding. The trot was submissive and steady and in canter the combination executed good flying changes on curved lines. Overall the contact with the bit has to improve as Don Diego is ridden with a very strong curb rein.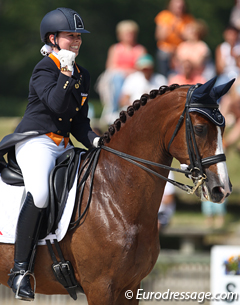 The best scoring Dutch rider in the Kur finals was Jasmien de Koeyer on her own Dutch warmblood gelding Take it Easy (by Florestan x Castro). The former pony rider rode to filmic music arranged by Charles Monterie. The halt at entry was not square and in the extended trot the chestnut gelding is a bit of a leg shaker in front, but the horse appeared very fresh, fit and willing to work. The trot was expressive, the canter solidly ridden but the contact should become slightly lighter in the future. The duo completed the top five with 75.500%.
Text and Photos by Astrid Appels - No reproduction allowed
Eurodressage photographer Astrid Appels took photos of all combinations competing at the 2013 European Junior and Young Riders Championships. Contact us if you are interested in prints of your photos!
Related Link
Eurodressage Coverage of the 2013 European Junior/Young Riders Championships