2013 Danish Elite Foal Auction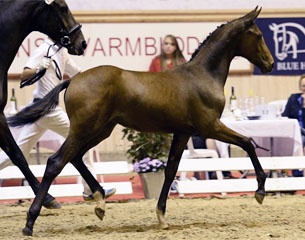 The 2013 Danish Warmblood Elite Foal Auction on Saturday night 7 September 2013 marked a turning point has been reached. There was a significant interest for buyers to invest in first-class foals and in particular the fillies achieved excellent prices.
The great years in 2007 and 2008 with record prices at the Danish Warmblood Elite Foal Auction were followed by some years with a decline in the prices in line with the global economic development. However, the Elite Foal Auction in 2013 proved to be the big turn for the better.
The fact that it were the fillies which got prices up to magical heights only emphasizes that there is great interest in investing in future breeding stock. The great demand for fillies of excellent quality gave the auction a completely magical atmosphere with exciting bidding duels which resulted in a new record price for a filly.
Anne Lyngby, Strandagergaard, placed the winning bid of DKK 350,000 for the breathtaking filly Stenagers Franzeska (by Franziskus x Wilkens x Sandro Hit) bred by May-Britt and Bjarne Christensen. The same breeders sold the filly Stenagers Fantasia (by Franziskus x Wilkens x Ferro) for DKK 200,000 as well as the colt Stenagers Aristocrat (by Tailormade Attention x Ferro x Leandro) for DKK 60,000. The three foals together  earned their breeders DKK 610,000.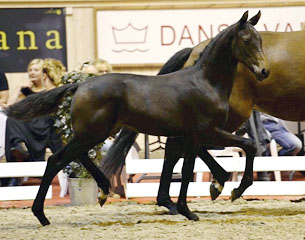 Tailormade Horses has acquired the most expensive foal at the Danish Warmblood Elite Foal Auction before and have had great success with it. This year they also purchased several foals of extremely good quality including dressage filly foal of the year Kgs Hørgaard Tabasco (by  Temptation x Weltmeyer x Don Schufro) for a knock-down price of DKK 250,000. They also bought Stenagers Fantasia.
Many buyers followeded the auction via the live streaming and placed their bids over the telephone which led to foals sold to Dubai, Great Britan and Norway. This was also the case with the Zibrandtsen family, who invested in the colt Borbjergs Don Juan (by Sezuan x Temptation x Michellino) for DKK 125,000. They also purchased the colt Future Jazz Dancer RV (by Jazz x Florestan I x Disco-Star) for DKK 65,000.
 
Stallion woner Lone Bøegh Henriksen invested in the colt KK Avicii (by Lord Leatherdale x Jazz x Donnerhall) for the knock-down price of DKK 120,000. Most expensive jumping foal was Dialensky (by Diamant de Semilly x Cornet Obolensky x Dinard L) which went for DKK 60,000.
"We have wiped away the financial crisis with this successful auction. I think it is instrumental in creating optimism for next year's breeding season. Purchasing fillies is a long-term investment and good proof that there is faith in the future. This is just the beginning of an upward spiral," said an optimistic Jan Pedersen, president of Danish Warmblood society.
Related Links
World Class Lot for 2013 Danish Warmblood Elite Foal Auction
Atterupgaards Jazzper, Top Selling Foal at 2012 Danish Elite Foal Auction
Future Jazz RV, Price Highlight 2011 Danish Elite Foal Auction
Dancing Boy, Price Highlight of 2010 Danish Warmblood Foal Auction
Ohlala, Price Highlight of the 2009 Danish Warmblood Elite Foal Auction
Bjerggaards Don Perignon, Danish Warmblood Foal of the Year and Top Auction Foal