What's In a Name?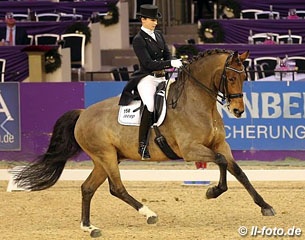 Making a name for himself in the 2013 Louisdor Cup Finals for German Developing Grand Prix horses at the 2013 CDI Frankfurt, the bay gelding Wunderkind is a one-of-a-kind according to his owner and rider Stefanie Weihermuller.  The KWPN registered was picked up from the reserve list to compete in the Louisdor Cup Finals and surprised friend and foe by finishing fourth overall.
Wunderkind is a 10-year old KWPN gelding by Sidney x Elcaro and Weihermuller describes as a mixture between Rambo and the Terminator.
"Riding him is totally different though," Stefanie told Eurodressage. "When I'm riding him he is extremely focused and concentrated and is always 
willing to do his best! The harder the lesson the more fun he has. I wake up looking forward to riding Waldo, every single day."
Wunderkind placed second in the warm up test, the Intermediaire II, at the 2013 Louisdor Cup Finals with 69.860%. The pair took out fourth place in the Grand Prix final with 68.404%. Weihermuller was very pleased with the result particularly as she was just grateful to take the centreline in the first place.
"It was a big surprise that I qualified for Frankfurt," explained Stefanie. "I only rode the last qualification in Donaueschingen, so we only had one shot and I was so happy that we did it."
According to Stefanie riding in Frankfurt was one of their biggest successes so far and she was so proud 
of Mr Wunderkind for his ability to keep his focus and to give her his best even with all the impressive 
atmosphere.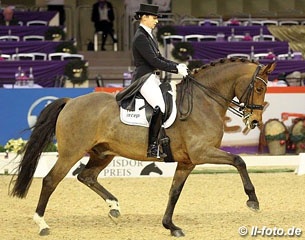 Purchased by Stefanie's family as a 4-year old in The Netherlands, Wunderkind, which means prodigy in German, was named by the family. In the barn he is more affectionately known as Waldo. Though Stefanie can not particularly recall why they called him that, she knows for sure that it was a family decision. "And now it's fantastic to see that the name was a top choice," she added.
With her own stable in Bayreuth in the north of Bavaria near Nuremberg, Stefanie works alongside her father. The pair has trained Waldo from the very beginning. "Still today my father is my trainer and I believe we are a great team," she said.
Ready to begin her 2014 year in top form, Stefanie hopes to ride more international competitions and make that next 
step to confirm her horse at Grand Prix level.
Text by Sarah Warne - Photos © LL-foto
Related Links
Scores 2013 CDI Frankfurt
Brigitte Wittig and Balmoral W Win 2013 Louisdor Cup