Groomed to Perfection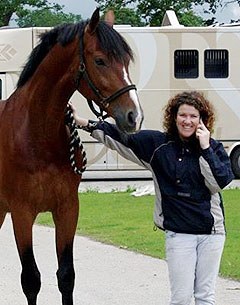 The star dressage pair doesn't just do the test correctly. They don't just have talent, accuracy, harmony and expression, they also have that something extra that catches the audience's and the judges' eye! Behind every great picture-perfect dressage combination is a good trainer and a good support team, complete with one all-important, up at dawn and last to leave member, whose role it is to not only make sure the number one is taken care of, carrot bribes and all, but is presented in tip top tail shining condition!
Eurodressage's new series "Groomed to Perfection" aims to go deep inside the lines of our dressage world and into the minds of the worker bees that put the whole ensemble together. The groom is responsible for taking a poo-covered shaggy mess and turning this four-legged partner into a performer fit for the dressage stage!
Beginning our journey in Great Britain, Liz Geldard Walsh worked for over a decade as the groom for British team rider Fiona Bigwood. She only recently closed the lid on her tack box, when her now husband Peter Walsh swept the 34-year old off her feet!
"I'm 100% sure I'd still be doing it for a good while longer but a man whisked me off my feet and married me earlier in the year and now I'm pregnant! If I get the chance after baby is born then I'd love to go to another show but being a top international groom involves 100% commitment to horse and rider and it sounds awful but isn't the place for someone who has other ties and commitments! So yes, I blame the man," Liz confessed. 
 Involved with horses from a young age, Liz inherited the horse gene from her parents, who were heavily involved in the thoroughbred racing industry in the UK. "I left school and started working for my mum breaking horses and ponies, normally the ones others had tried and failed! This taught me to be sympathetic and patient and has held me in good stead ever since. I love the reward of working with the "special and sensitive horses"."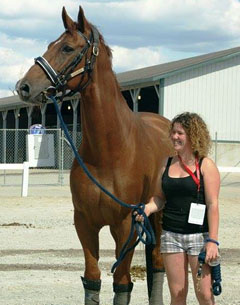 From the age of 18 to 21 Liz was employed by the lovely Murphy family at their Wychnor park Stud, breeding and producing top class National Hunt Racehorses. "While I was there I got a phone call from a friend who was working at Fiona Bigwood's out in Cologne in Germany and said there was an opportunity of a job out there. I jumped on a plane a couple of days later not really knowing who she was or what I was going to be doing and then had a successful interview and two weeks later I was there full time for my dressage groom adventures to begin! This amazing journey lasted 11.5 years and it is only a few months ago I left."
Working with other top riders including Alexandra Korelova and Balagur, Liz accompanied Alexandra at two European Championships (Turin 2007 and Windsor 2009) and also at the very memorable Olympics in Hong Kong 2008, where the pair finished a fantastic 5th after the special. "Definitely a huge highlight and opportunity for me," she added.
With so many highlights to note during her grooming career, Liz finds it difficult to pin point her best ever moment but know that working with the great team at Team Bigwood is a good place to start. "A very special occasion was my first ever Championship with Team Great Britain at the Europeans in Hagen in 2005 with Fiona and Mr G de Lully, a super sensitive horse that meant everything to me. That, and being part of Team GB's Silver medal at WEG in Kentucky, were definite highlights."
We are allowed to witness in the arena the partnership between a horse and his rider, but the partnership a horse has to his groom is also something both special and important to dressage. Liz is grateful for not only the amazing human friends she has made during her career, but also the talented four-legged friends who have shared her journey. "I cannot forget the brilliant horses I've worked with that have enabled me to travel all over the world. Without them I wouldn't have had such amazing memories or any of those highlights mentioned above," she stated.
So what does it take to be a groom at the top level? According to Liz, you definitely have to be prepared to work extremely hard and give your all to the horses in your care. "This must be done to the point that you no longer think of yourself! If you're going to complain about unsociable hours, early starts in rain or snow, working Bank Holidays, missing your lunch break, working non-stop for 2/3/4 weeks without a day off, then this is not the job for you!"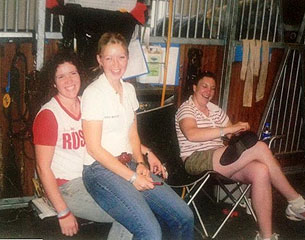 Beyond the long hours and freezing starts, Liz knows that being a top groom is also about developing that special bond and 'feel' for the horses you work with. "You must care for their every need and give them your full attention. You need to notice every little change in their physical and mental state, even the most subtle thing that someone else wouldn't notice. My advice to be the best groom is to really get to know your horses!"
Joining the elite group of grooms is not dependent on working for international competition riders and doing all the top shows, but about taking an immense sense of pride in your work and the turnout and well-being of your horses.  "Don't turn a blind eye to anything and always go that extra mile."
Then, when the horse is fed, pampered and sparkling, the groom has to take care of the rider. "Not only does a groom need to be brilliant with the horses, but competition riders can all act very differently at shows, they put themselves under an immense amount of pressure so you need to know how to talk to them, if they want to be left alone or if they want a good talking to!"
A term used to described a myriad of roles, a super "groom" will also double up as many other things, including vet, social worker to horses, sports psychologist, make-up artist, hairdresser to celebrity animals, and much more! "We don't just shovel manure," Liz laughed. "We need broad shoulders, patience, kindness and understanding!"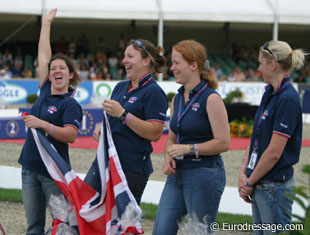 However, it's not all serious and Liz remembers a few moments during her time that certainly made her laugh. "My funniest moment -- only because it didn't go wrong -- was watching a groom spray show sheen onto her riders saddle and reins after they had come into the competition stables shouting at her! My stupidest moment was seeing a groom walk away from a top breeding/competition stallion and leaving his door wide open, when I called down to her to let her know she said it was ok, he was really quiet. As we were at Aachen and surrounded by a lot of temptation I shut the door and told her politely it wasn't very wise!"
Also willing to help out other grooms at shows, especially a groom feeling slightly delicate after a rather social evening, Liz knows that once you get in amongst the grooming action, it's hard to imagine doing anything else. "It's how I've spent all of my adult life, horses truly get into your blood! Even now I have left Fiona and Anders and am heavily pregnant I keep ringing them to get my fix!"
Kicking off our Groomed to Perfection series, we can see just how important our little stable angels are. So stay tuned for the grooming tips from around the world that will truly make you and your horse stand out in the crowd!
by Sarah Warne for Eurodressage
Photos © Astrid Appels - private
Related Link
Eurodressage Grooms' Corner: Groom and Rider Advertisements