Canadian Dressage News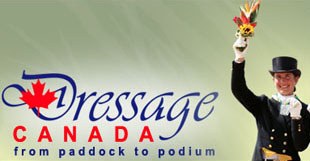 Dr. Geoff Vernon has been appointed the official Dressage Team Veterinarian for the 2014 World Equestrian Games, set to take place in Normandy, FRA next summer.
"We are thrilled to have a seasoned professional like Dr. Vernon join the team," said Victoria Winter, who was recently appointed the Chef d'Equipe for Canada's 2014 WEG Dressage Team. "Not only does he bring years of international experience, but having filled this role for Canada at the 2012 Olympic Games and 2010 WEG, he already has a good familiarity with our riders. I look forward to working with him as we prepare for WEG."
A world-renowned equine veterinarian, Dr. Vernon has held FEI Veterinarian status since 2009. In that time, he has filled the role of team vet for both Canada and the U.S. at Olympic Games, Pan American Games, and World Equestrian Games, as well as a wide range of prestigious international competitions.
"I look forward to the opportunity of building on the past successes of Canada's dressage team and in helping to fulfil its promise for the future," said Dr. Vernon.
In addition to being Canada's WEG Dressage Team Veterinarian, Dr. Vernon will be offering his expertise to high performance riders as a keynote speaker at Dressage Canada's "Florida Fortnight" , which is being hosted during CDI-level competition in Wellington, FL from Jan. 19 to Feb. 2, 2014.
Created to provide dressage athletes, sponsors, owners, officials, and enthusiasts with the chance to join in educational, networking, and entertainment-related activities, the Florida Fortnight will feature everything from public panel discussions and fundraisers to private planning sessions for Canada's potential WEG team members.
Related Links
Canadian Fortnight to Provide One-of-a-Kind Experience to Dressage Athletes and Enthusiasts
Victoria Winter Appointed Canadian Chef d'Equipe for 2014 World Equestrian Games