New Zealand Dressage News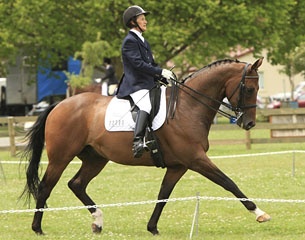 Equestrian Sports New Zealand (ESNZ) and New Zealand Thoroughbred Racing (NZTR) announced a joint initiative aimed at increasing opportunities for second careers for Thoroughbred horses retiring from racing and raising awareness of the adaptability of Thoroughbreds for second careers in equestrian sport.
The initiative, titled Thoroughbreds in Equestrian Sport (TiES), also aims to increase links between the Thoroughbred racing industry, the wider equestrian community and the public to stimulate uptake of ex-racehorses for second careers.
A series of competitions for Thoroughbreds only, spread across three equestrian disciplines – Jumping, Eventing and Dressage – will be added to this season's equestrian competition schedule. The TiES Competitions summary is included below.
Each horse will accumulate points over the duration of the designated shows, determined by their overall placing in an individual class, and the horse with the highest number of points at the show will be awarded prizes and the title 'TiES (Eventing/Jumping/Dressage) Champion.
A Grand Prize will also be awarded to the highest placing Thoroughbred (regardless of discipline) in the season under review at the close of the season
Matthew Goodson, Chairman of NZTR, said:
"Racing people are passionate about their horses and they recognise that it is in the interests of both the Thoroughbred horse and the Thoroughbred racing industry, and all its participants, including breeders, trainers, jockeys and stable staff, to maintain sound horse welfare programmes. That extends to the welfare of our retiring racehorses and horses which do not make it to the races."
"As part of NZTR's response to this, we have entered into this partnership with ESNZ. Our ultimate goal is to achieve a balance between the number of horses leaving racing and the number of enthusiastic and suitable, new homes able to take on the responsibility of looking after a former racehorse."
Jim Ellis, ESNZ Chief Executive, added:
"Numerous retrained Thoroughbreds make their mark on the equestrian circuit each season and ESNZ is excited to launch the TiES programme with NZTR. For many years the New Zealand Thoroughbred was recognised as the ideal Eventing horse and is still the first choice for many top Event Riders around the world."
"Increasingly Thoroughbreds are making their mark in our other disciplines especially in Showjumping and Dressage. These new competitions will recognise the hard work and years of training that are involved in producing a retrained Thoroughbred to a high level of achievement in equestrian sport."
"ESNZ acknowledges the support of Thoroughbred Racing and looks forward to an exciting new series of competitions in 2014."
An integral part of this initiative will be consulting with aftercare specialists and examining ways to increase uptake of ex-racehorses for equestrian sport.  It is also intended to increase knowledge of where racehorses go when they leave racing which will help develop a wider strategy for ex-racehorses.
Photo courtesy of NZ Equine Photography
Related Links
Do We Still Need Thoroughbred Blood to Breed Performance Horses?
Louise Robson on a Mission Appointed by Her Majesty