British Dressage News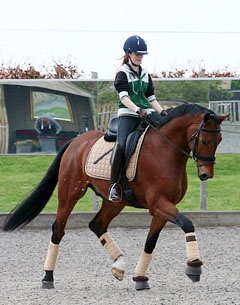 Olympic, European and World Cup champion Charlotte Dujardin is already paying it forward, just like her mentor Carl Hester did. Dujardin has given the ride on her 5-year old Dutch warmblood Edison H to 2013 European Pony Champion Phoebe Peters.
Dujardin rose to international stardom and grabbed the world's number one spot thanks to the benevolence of her trainer Carl Hester, who offered Charlotte the ride on the best horse in the barn, Valegro. Carl always said that he wanted to provide his student the same opportunity he got from his mentor, Dr. Wilfried Bechtolsheimer (Carl rode Dr. B's Giorgione at the 1992 Barcelona Olympics). Dujardin clearly appreciates this altruism and is now paying it forward herelf.
The 14-year old British pony rider Phoebe Peters became the 2013 European Pony Champion on SL Lucci in Arezzo, Italy, with pony world record scores. There she impressed the judges and crowds with her fine riding. Charlotte has now given Phoebe the ride on her 5-year old youngster, Edison H (by Ampere x Riverman).
"Eddie arrived in the barn on Friday 12 April and is a really sweet horse," Peters explained.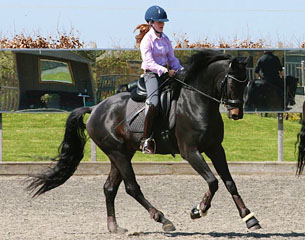 "We bought Edison H locally from Ryan Shannon," Carl Hester told Eurodressage. "As a mentor to Phoebe, Charlotte is just giving her a helping hand to move onto a horse."
The Peters' family owns three ponies (SL Lucci, Hillmen, Ramnor Beau Supreme) and one horse (Robin 2 Z, owned by Phoebe's elder sister) but so far have not invested themselves in follow-up for Phoebe. 
Last year Phoebe got her feet wet riding youngsters as her trainer Peter Storr gave her 4-year old Dutch warmblood stallion Ferdinant (by Sandreo x Polansky) to break in.
"Phoebe broke Ferdi herself with Peter's guidance before Christmas and she is the only person to have ridden him," Phoebe's mom Tracy Peters told Eurodressage. "He was gelded on 10 April. He is truly lovely."
Related Links
Wilfried Bechtolsheimer's Giorgione Passed Away
Carl Hester Has the Fun Factor
Charlotte Dujardin and Valegro Win 2014 World Cup Finals
Phoebe Peters Undisputed 2013 European Pony Champion Wins Kur Gold
Eva Vita Shines at 2013 Pavo Cup Qualifier in Hartpury