Belgian Dressage News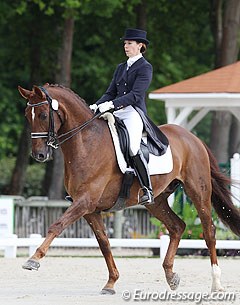 The Belgian Equestrian Federation has released the updated 2014 squad lists in the lead up to the 2014 World Equestrian Games. Technical advisor Sjef Janssen and chef d'equipe Jeroen van Lent based the squads on the latest results up till the CDI Saumur.
The five top squads (A team, B+ team, B team, C team and High potential team) were altered. David Engelen has moved into the C-team with his rising Grand Prix horsr Royal Rubinstein, Marc Peter Spahn was submitted to the B-team with his new acquisition Ekwador. Laurence Vanommeslaghe boosted herself straight into the A-team.
The updated teams are:
A-Team (two scores above 69%)       
Fassaert Claudia  -   Donnerfee   
Vanommeslaghe Laurence  -  Avec Plaisir
B+ Team (two scores above 67%)       
De Deken Julie   -  Lucky Dance  
Hologne Joux Françoise  -  Wodan   
Jorissen Philippe -   Le Beau 
Meiresonne Delphine  -   Wipsy vh Heihof 
Missiaen Simon   -  Vradin  
B-Team (two scores above 65%)       
Devroe Jeroen  -   Eres DL 
Dewaegenaere Ona  -   Dabanos d'04
Spahn Marc Peter  -   Ekwador 
Van Orshaegen Mario -    Wilco V 
Vermeulen Philippe -    Cioccolatino 
Verwimp Wim - Pari Lani 
C-Team (two scores above 64%)       
Engelen David  -  Royal Rubinstein
High Potentials       
Heylen Tom   -  Universal  
Jorissen Philippe  -  Agneta  
Mohimont Dominique -   Zephyr  
Photo © Astrid Appels
Related Links
Belgian Road to 2014 World Equestrian Games Set
German and Belgian Teams for 2014 CDIO Vidauban Announced
Jeroen van Lent Resigns as Chair of the Belgian Dressage Committee
Julie de Deken and Lucky Dance Show Their Moves at the 2014 CDI Nieuw en St. Joosland
Jeroen Devroe Returns to the Grand Prix Ring with Eres DL