2014 Bundeschampionate Qualifier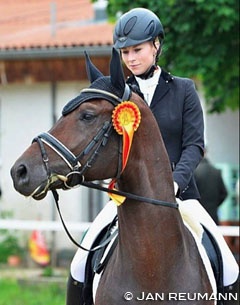 The 5-year old Queen Kira and the 6-year old Caya were the winning horses in the Bundeschampionate qualification classes held at the regional show in Wolfskehlen, Germany, on Saturday 17 May 2014. Hosted at the Burghof, this qualifier featured 23 horses in total.
The 5-year old L-level division was won by Hungarian Robert Acs on the Hanoverian mare Queen Kira (by Quaterback). He scored 8.3 to win the class and was the sole competitor to post a score high enough to qualify for the Finals in Warendorf. The criterium is 8.0 or higher. The runner-up in the class was Stefanie Kerner on the Westfalian bred Ein Traum (by Estobar). They achieved 7.7.
Mare power continued in the 6-year old M-level division with Lena Waldmann claiming top honours on the Hanoverian mare Caya (by Carabas). The pair posted a score of 8.1 and referred Carolin Brandt on the Oldenburg bred Didgeridoo (by Dimaggio) to second place with 7.4.
Photo © Jan Reumann
Results - 2014 Bundeschampionate qualifier - Wolfskehlen
5-year olds
1. Queen Kira  (by Quaterback) - Acs, Robert - 8.30
2. Ein Traum (by Estobar) - Kerner, Stefanie  -   7.70
3. Scavi Noir  (by Sir Donnerhall ) - Mimberg, Mareike - 7.60
3. Sahneschnitte (by Sir Sandro) - Dlugos, Andrea - 7.60
5. Desperada  (by Desperados) - Kaufmann, Sabrina -  7.50
6. Quick Decision S   (by Quaterback) - Duckworth, Sam -  7.40
6. De Luxe (by Don Frederico) - Kronaus, Kerstin  - 7.40
6. Quatre-Pieds-Blancs   (by Quaterback) - Mimberg, Mareike -   7.40
9. Dollargirl (by Dolany) - Kronaus, Kerstin -  6.90
10. Sandros Hit   (by Sandro Hit) - Schmid, Paul -  6.80
11. Sacre Fleur (by San Amour) - Buda, Jennifer  - 6.40
11. Quentano (by Quaterback) - Zurheide, Madita - 6.40
13. Constanze (by Canoso) - Remus, Yvonne -  6.30
6-year olds
1. Caya (by Carabas) - Waldmann, Lena - 8.10
2. Didgeridoo (by Dimaggio) - Brandt, Carolin -  7.40
3. Delacour   (by Dramatic) - Thomas, Kevin -   7.30
4. Sorento  (by   Sir Donnerhall I) - Freimuth, Alexandra -  7.20
5. Jalachit  (by Johnson) - Bennin, Kirsten -  7.10
6. Maksim  (by Herzensdieb) - Geier, Erich   -  7.00
7. Sacharow  (by Swarovski) -   Feldmann, Claudia  - 6.90
8. Santino's Sternchen (by Santino) - Freimuth, Alexandra   - 6.60
8. Final Countdown  (by Floresco) - Peters, Maximilian  -  6.60
10 . Sokrates (by San Amour ) - Dehio, Lise-Lotte - 6.50
Related Link
Eurodressage Coverage of the 2014 Bundeschampionate