Belgian Dressage News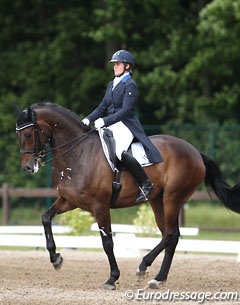 The Belgian Grand Prix dressage squads have been updated with the latest scores of the 2014 CDI Compiegne included. Certain national and all  international results achieved between December 2013 and 1 June 2014 determine the squad positions of the Belgian Grand Prix combinations. 
While the A-squad remains unchanged, the B+ squad has been considerably expanded with Jeroen Devroe (Eres DL), David Engelen (Royal Rubinstein), Ona Dewagenaere (Dabanos d'O4), and Mario van Orshaegen (Wilco V) as new additions.
2013 Belgian Dressage Champions Simon Missiaen and Vradin have been dropped from the B+ to the B team as the pair has not been out to compete since the horse got injured in February 2014.
The current teams include
A-team (2x 69%)
Claudia Fassaert - Donnerfee
Laurence Vanommeslaghe - Avec Plaisir
B+ Team (2 x 67%)
Philippe Jorissen - Le Beau
Francoise Hologne Joux - Wodan
Jeroen Devroe - Eres DL
Julie de Deken - Lucky Dance
Delphine Meiresonne - Wipsy van 't Heihof
Ona Dewagenaere - Dabanos d'O4
Mario van Orshaegen - Wilco V
David Engelen - Royal Rubinstein
B Team (2x 65%)
Philip Vermeulen - Cioccolatino
Marc Peter Spahn - Ekwador
Simon Missiaen - Vradin
Wim Verwimp - Pari Lani
C Team
Leslie Goethals - Victor
Joelle Swaelens - Sovado
Serge Pais - Wotan
Manon Charlier de Croy Roeulx - Fegefever
Carlo Vanhove - Aquino
Michel Tecqmenne - Furst D
High Potentials
Philippe Jorissen - Agneta
Tom Heylen - Universal
Dominique Mohimont - Zephyr
Related Links
2014 Belgian Dressage Squads Updated
Belgian Road to 2014 World Equestrian Games Set
Simon Missiaen's Vradin Injured