2014 CDIO-PJYR Hagen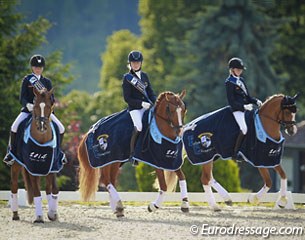 The annual Future Champions nations' cup for youth riders held at the wonderful Hof Kasselmann in Hagen, Germany, was also this year a fabulous event with a high class field of competitors, a lovely relaxed atmosphere and perfect showing conditions. For the pony division a CDIO and CDI tour of new and experienced pony riders came together.
Many international newbies in the CDI tour gained experience riding in the quiet but divine show ring on top of the hill. The more experienced pairs appeared in the CDIO-tour and Germany won the pony nations' cup. The team consisted of 2014 German European team candidate Celine König on Daddy's Daydream, team confirmed rider Semmieke Rothenberger on her third pony, Paso Double, which after almost two years of ownership she now showed internationally for the first time. The winning team was completed by Paulina Holzknecht on Carlos. 
The Danish pony team finished in silver medal position in the Nations' Cup. Team trainer Jette Nevermann did a test run with some of her rising pony pairs in Hagen, lining up some newscomers who have been improving this show season: Sofie F. Bruun Sørensen on Melli's Dornik, Sarah van Deurs Petersen on Farbenfroh and the team reserve for the Nordic Baltic Championships, Karoline Rohmann on Adriano B.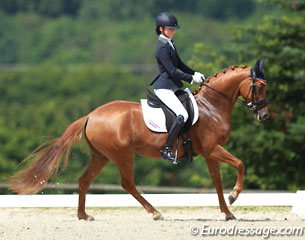 Dutch team trainer Tineke Bartels fielded a mixed team that won bronze in Hagen. It included her top rider Lisanne Zoutendijk with her second pony Amaretto, 2013 Dutch european team rider Joelle Peters on Haasendonck's Sultan and one of the strong new comers of the season Daphne van Peperstraten on Don Camillo du Bois. The latter also presented her brand new, second pony in the CDI tour, the chestnut mare Wonderful Girl, which is bred by Sönke Rothenberger by his old FEI pony Wimbledom out of a full sister to former European pony champion Dulcia.
Text @ Photos © Astrid Appels / Eurodressage - NO REPRODUCTION ALLOWED (NO FACEBOOK!! If you want to use the photo, buy it)
Eurodressage's Astrid Appels was on the scene taking photos of the majority of riders in Hagen (I don't have all, but most!). Contact us if you are interested in photo prints, collages or albums.
Related Links
Scores: 2014 CDIO-PJYR Hagen
Photo Report: Future Champions CDIO-PJYR Hagen Hard to Top