2014 European Junior and Young Riders Championships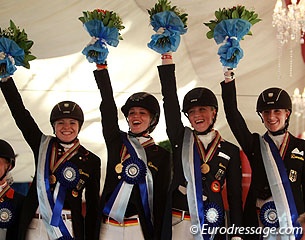 The Team Championship competition at the 2014 European Junior and Young Riders Championships in Arezzo, Italy, came to a conclusion today Thursday 10 July 2014 with a double Germany-Holland-Denmark podium in both the junior and young riders division. While last year riders and spectators got grilled alive by the summer heat in Arezzo, this year the weather has been much milder with a fresh breeze and rain showers cooling down hot dressage.
Germany reigned supreme with juniors Julia de Ridder, Ellen Richter, Jessica Krieg and individual winner Anna Christina Abbelen taking the podium first, followed by German young riders Juliette Piotrowski, Lisa Maria Klossinger, class winner Sönke Rothenberger and Florine Kienbaum next.
The Dutch team twice found a silver lining in Arezzo with juniors Marjan Hooge, Lotte Meulendijks, Jeanine Nekeman, and Rosalie Bos and young riders Denise Nekeman, Jeanine Nieuwenhuis, Anne Meulendijks and Stephanie Kooijman beaming from head to toe.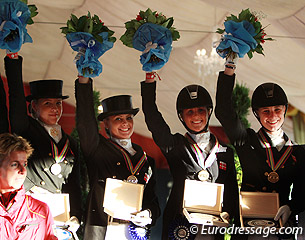 The Danish riders were glad to be back on the podium, especially young riders Emilie Holm Toft, Kathrine Springborg, Mille Larsen Warnecke, and Anna Zibrandtsen who lost their subscription to bronze last year to Belgium at the 2013 European Young Riders Championships in Compiegne. The Belgian team was struck by misfortune in Arezzo as anchor rider Jorinde Verwimp broke her toe on vet check day, but still chose to ride despite a doctor's recommendation of four weeks rest. Verwimp was unable to perform at her usual top level and stayed a few percentages short of her personal best score. Belgium's number two, Alexa Fairchild, rode in severe windy weather. When she entered the ring, the fences on the short side at A had all blown away and in principle the judge at C (today Eddy de Wolff van Westerrode) should have stopped the competition and have the fence structure rebuilt before a rider is supposed to enter the ring. This didn't happen and Alexa's horse Timor became spooky and tense from the misplaced fences and wind.
Danis juniors Alexandra Sorensen, Sille Engermann, Amanda Overgaard and Kristine Koch were on strong form and grabbed the bronze ahead of a powerful Norwegian team.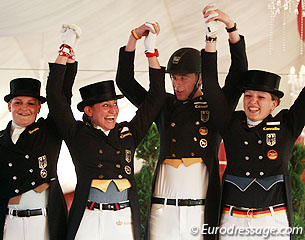 The prize giving ceremony was scheduled for approximately 8 PM on Thursday evening but a heavy down pour of rain forced the organizers to host the medal ceremony indoors in the lavish, beautiful VIP tent decorated in a lush Middle Eastern theme with velvet sofas, oriental rugs, and pillows. The ceremony became one big, crowded bazaar of passionate rider-parents trampling the organizers, officials and professional photographers. It was hardly possible to have a proper ceremony; no national anthem was played, the riders got happily inundated with great prizes (ribbons twice, a sash, a stable plaque, coolers, flower bouquets and medals) making it hard to distinguish the person from the loot, and people ran criss cross in front of the podium. It was one big frenzy, but the place getters enjoyed it nonetheless and held a mini indoor lap of honour in canter to top things off.
More in depth info on the team championship test to come tomorrow
Text @ Photos © Astrid Appels / Eurodressage - - NO REPRODUCTION ALLOWED (NO FACEBOOK!! If you want to use the photo, buy it)
Eurodressage's Astrid Appels was on the scene taking photos of all riders in Arezzo. Contact us if you are interested in photo prints, collages or albums.
Related Links
Eurodressage Coverage of the 2014 European Junior/Young Riders Championships
Scores: 2014 European Junior and Young Riders Championships