2014 British Youth Riders Championships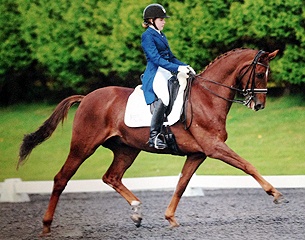 Hundreds of younger generation British dressage riders gathered at Sheepgate Equestrian centre in Lincolnshire for the 2014 British Under-25s Dressage Championships held on 18 – 23 August 2014. The 14th running of the five-day festival featured wall-to wall competition with Bethany-Rose Horobin, Jessica Blackmore and Joanna Thurman-Baker rising to the top of the FEI Under-21s ranks.
Horobin, Blackmore and Thurman-Baker won the FEI Pony Championship, the Junior Championship and the Young Rider Championships respectively. Bethany-Rose, fresh from her team silver success at the Pony European Championships in Millstreet, Ireland last month was victorious in both Pony tests with 72.95% and 72.24% to seal the overall Pony Championship.
Essex-based Bethany-Rose (16), who's enjoying her last year of Ponies with her friend Gigolo (by Going East) said on Facebook: "Fantastic few days at Sheepgate Under 25s Championships with Gigs, winning the pony tests both days with over 72% in each, and a massive score of 77.88% in the music. A great end to our FEI pony career." In an interview with Horse & HGound, Horobin added "I couldn't ask for any more from him. He has exceeded all my expectations."
Jessica Blackmore headed the Junior championship scoring 67.77% and 68.38% riding Helen Gallop's Don Diego, a 12-year-old gelding by Don Schufro. The 18-year old Australian born who is based in the U.K. competed in 10 classes on three horses over 2 days and placed in all ten of them.
Young Rider victor Joanna Thurman-Baker partnered her own San Piko, a 13-year-old gelding by Sandro Hit. Joanna, who hails from Oxfordshire, scored 67.50% and 70.72%.

Results  - 2014 British Youth Riders Championships

Pony Team Test
1st Bethany-Rose Horobin & Gigolo, 72.95%
2nd Clare Hole & Rembrandt DDH, 70.26%
3rd Rose Hugh-Smith & Holsteins Derwisch, 69.23%
Pony Individual Test
1st Bethany-Rose Horobin & Gigolo, 72.24%
2nd Clare Hole & Rembrandt DDH, 71.16%
3rd Rose Hugh-Smith & Holsteins Derwisch, 67.31%
Pony Kur to Music
1st Clare Hole & Rembrandt DDH, 78%
2nd Bethany-Rose Horobin & Gigolo, 77.88%
3rd Emma Bond & Rober, 68%

Junior Team Test
1st Jessica Blackmore & Don Diego, 67.77%
2nd Rose Hugh-Smith & Florentino, 67.36%
3rd Joanna Thurman-Baker & San Piko, 66.82%
Junior Individual Test
1st Joanna Thurman-Baker & San Piko, 69.73%
2nd Jessica Blackmore & Don Diego, 68.38%
3rd Jessica Blackmore & Ventoux-W, 68.11%
Junior Kur to Music
1st Charlotte Fry & Z Flemmenco, 77.13%
2nd Emily Hedger & O'Donner, 72.38%
3rd Megan Roberts & Dreamgirl SC, 69.50%

Young Rider Team Test
1st Beth Barnett & Sheepcote Delight, 67.89%
2nd Joanna Thurman-Baker & San Piko, 67.50%
3rd Charlotte Fry & Z Flemmenco, 67.17%

Young Rider Individual Test
1st Joanna Thurman-Baker & San Piko , 70.72%
2nd Lily Hewitt & Zavier II, 69.34%
3rd Charlotte Fry & Z Flemmenco , 67.17%

Young Rider Kur to Music
1st Francesca Bradley & Baldovino, 68%
2nd Catrina Leckie & Adventure, 65.25%
3rd Amy Blount & Gkar, 61.75%
Related Links
Barton, Scruton, Knapton Win 2013 British Youth Riders Championships
Fry, Davis, Woodhead Win 2012 British Youth Riders Championships
Williams, Knapton, Woodhead Win 2011 British Youth Riders Championships
Harris, Bates, Cartwright, 2007 British Youth Rider Champions
Jessica Blackmore, A Young Life's Dedication to Dressage