2014 Equine Elite Auction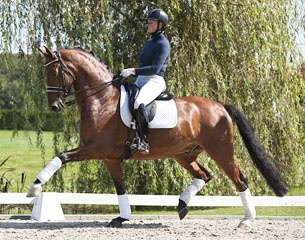 Gardo Vincken from All4Designs, a company specialising in the sale and design of customised products within the equestrian industry, has comfirmed a three year sponsorship agreement with Equine Elite, the Auction.  As part of the sponsership package All4Designs will be supplying each of the horses with embroidered blankets and the auction staff with a customised uniform for the event.
Ronald Lammerink, Director of Washington Events bv, the company responsible for organising Equine Elite the Auction commented, "we are so happy with all the support from All4Designs.  If you are looking for quality and style then All4Designs and Equine Elite are the perfect match.''
Equine Elite will be celebrating its 10th Edition on 25 October 2014 and the preparations are well underway.  There will be a total of 50 horses to be auctioned, ranging  from a collection of ten 2 year-old stallions to horses working at Grand Prix level, providing a broad spectrum of choice for everyone.
For more information www.all4designs.nl and www.equineelite.nl