British Dressage News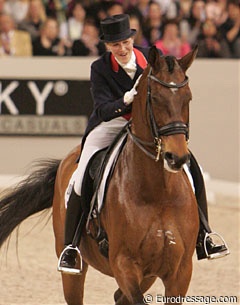 Laura Bechtolsheimer's Grand Prix horse Andretti H has been retired aged 19. Ridden by Laura until 2013, the combination enjoyed a long and successful career together, producing many top wins including the title of British Dressage Champions in 2010 and 2011.
Andretti is Hanoverian gelding by Aarking xx x Cavalier and was brought to international Grand Prix level by Italian Anna Paprocka-Campanella who rode him at the 2006 World Equestrian Games in Aachen and at the 2007 European Dressage Championships in Turin, Italy. Andretti H was also regularly shown by Campanella's trainer at the time Hubertus Schmidt, who became 2007 German Dressage Champion with him. Paprocka owned Andretti for five years and sold him to the Bechtolsheimer family in April 2008.
The winners of several Grand Prix and Grand Prix Freestyles throughout their competitive career, Laura and 'Andy' posted many 75+% scores including a personal best in 2011 of 78.73% in the Hagen CDI Grand Prix Freestyle. In 2013, Laura kindly handed over the reins to stable jockey Lara Griffith and the pair forged a strong partnership, continuing to produce consistent scores which saw them selected as reserves for the 2014 World Equestrian Games.
Programme Manager for Dressage, Richard Waygood, commented on the retirement of Andy; "He was a great second string for Laura and it was immensely generous of her to give the ride to Lara. We are so grateful that Andy was campaigned throughout the season leading up to WEG to give Britain such a strong reserve horse".
Andy will now enjoy his retirement in the Cotswolds with his owners, Dr and Mrs Bechtolsheimer.
Photo © Astrid Appels
Related Links
Eurodressage Photo Database: Andretti H
British Team Selected for 2014 World Equestrian Games
Carl Hester Brings Tally to 66 at 2013 British Dressage Championships
Campanella and Bechtolsheimer Running for Seat on FEI Dressage Committee as Riders' Representative
Bechtolsheimer, Woodlander Farouche and Carinsio Dominate Final Day of 2011 British Championships
Laura Bechtolsheimer Wins 2010 British Grand Prix Championships
Paprocka-Campanella's Andretti H Sold to Wilfried Bechtolsheimer