Trakehner Sport Horse Auction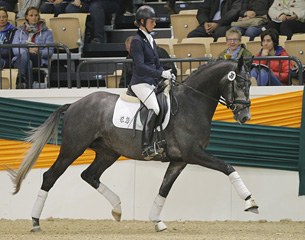 The grey Trakehner stallion Hopkins became the price highlight of the riding horse auction held at the 2014 Trakehner Stallion Licensing in Neumunster, Germany, on Saturday 18 October 2014.
The auction produced above over-average results for the riding horses as the collection included only five riding horses (besides the licensed and non-licensed stallions)  and they achieved an average price of 54,150 euro. A client from North Rhine-Westphalia paid the top price of 100,000 Euros for the 3 year old Trakehner stallion Hopkins (by Hofrat x Artistic Rock).
Hopkins is bred by Ilsemarie Peters from Moehne and was owned by August Camp from Geldern. Hopkins was approved in Neumuenster in 2013 and was the 2014 Trakehner Riding Horse Champion. He also qualified for the 2014 Bundeschampionate.
The second most expensive horse was the compact, and refined riding horse Maddoc, a gelding by Kasimir x Lucito, for whom the hammer fell at 85,000 Euros. Maddoc is six years old and was purchased by a client from Hamburg.
Eleven foals were included in the auction lot. The most expensive foal was Philippa (by Syriano x Le Rouge) which sold for 14,000 Euros. Beate Helse is the breeder of the little bay filly who will now grow up in Lower Saxony. The average price for a foal was 7,409 euro.
A total of 8 non-approved stallions were sold during the auction. The price highlight was the bay Ghandi (by Easy Game x Michelangelo) which sold for 21,000 euro. Bernadette Brune acquired the 7-year old stallion Kyrill (by Lord Luciano x Matador). Other buyers at the auction came from the Czech Republic, USA, Great Britain, Luxemburg or Austria. The non-approved stallions in the auction achieved an average price of 12,500 euros.
The auction of the premium and approved stallions, as well as the broodmares, will be held on Sunday. All five of the premium stallions and eight licensed stallions will be for sale. Only three Approved stallions will be staying with their current owners.
Related Links
Sir Sansibar, Champion of the 2014 Trakehner Stallion Licensing
2014 Trakehner Stallion Licensing Kicks Off with Hard Surface Presentation