French Dressage News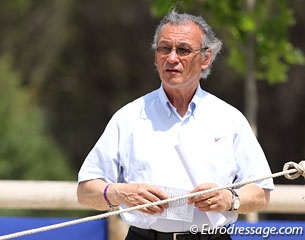 Alain Francqueville has stepped down as chef d'equipe of the French dressage team. He has retired from his position on 30 September 2014 after having served the French federation in dressage for twelve years.
Since 2003 Francqueville took on the jobs as trainer, selector and chef d'equipe for dressage for the French Equestrian Federation (FFE).
Francqueville was a member of the FEI Dressage Task Force and first new FEI Dressage Committee after FEI President dissolved the old, virtually all judges-inclusive committee to instate a new one with a more global and diversified representation.
"The FFE is sincerely grateful for Alain Francqueville's role in the development of dressage in France. We wish him the best of luck in his next ventures, especially in his job as an international dressage judge," the press officer of the FFE stated.
Sophie Dubourg, the FFE Technical Director, will continue Alain's work, assisted by Emmanuelle Schramm, who is the Technical Director for Dressage in France.
In order to achieve the principal goal of qualifying the French Team for the 2016 Olympic Games in Rio de Janeiro, team trainer Jan Bemelmans will continue his job as national selector and team trainer.
Photo © Astrid Appels
Related Links
2014 CDI Deauville, Important Step for France and Australia Towards WEG qualification
Jan Bemelmans Hired as French Team Trainer
French Dressage Focusing on 2012 Olympic Games
French Elite Riders Train with Hans Heinrich Meyer zu Strohen
Ad Hoc Working Group to Form New FEI Dressage Committee
FEI Dressage Task Force: Finalised Membership and Terms of Reference
Top Dressage Team Debates on Dressage and Music