KWPN Breeding News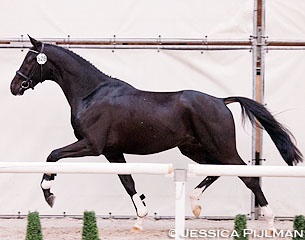 A very large group of 31 dressage colts out of 66 were accepted for the 2015 KWPN Stallion Licensing based on their performance on the second pre-selection day in Ermelo, The Netherlands, on Tuesday 9 December 2014.
The colts has to show themselves on hard surface in the morning, followed by a presentation in freedom in the afternoon. 
The stallion licensing committee, consisting of Wim Ernes, Marian Dorresteijn and Reijer van Woudenbergh, picked 31 colts today and no less than 10 (out of 20 presented) are sired by Apache. 
"The quality today was on average higher than yesterday with a few more highlights," said Ernes. "The selected sons by Apache stand out with their good movement mechanism, in which they engage from behind and have lift in the withers."
Other offspring selected are sired by Vivaldi, Wynton, Westpoint and Totilas.
"We were able to select colts based on breed, youth and movements. We are very happy as a committee. We picked generously," Ernes added.
The 31 selected colts today are:
Hotmail V (by Apache x Silvano N)
Huan (by Apache x Goodtimes)
Handsome Zee T (by Apache x Jazz)
Haranko (by Apache x Future)
Hatachi (by Apache x Metall)
Hornrose (by Apache x Ferro)
Hero (by Apache x Metall)
Hasta La Vista (by Apache x Florestan)
Hawkeye (by Apache x Rousseau)
n.n. (by Apache x De Niro)
Hotspot LH (by De Niro x Metall)
Handsome Boy (by De Niro x Jazz)
Heartbeat (by Tango x Gribaldi)
Trafalgar (by Totilas x Lord Loxley)
n.n. (by Totilas x Sir Donnerhall)
Hunter (by UB40 x Bentley)
H. (by United x Sandreo)
Harrod (by Uno Don Diego x Houston)
Haydn (by Uphill x Cabochon)
Herr Hans S (by Vivaldi x San Remo)
Hivaldi (by Vivaldi x Kigali)
Harlem D (by Vivaldi x Donnerhall)
Heaven E (by Voice x Jazz)
Hummer (by Westpoint x Farrington)
Hannover (by Westpoint x Sandro Hit)
Handsome (by Wynton x Cabochon)
Harvard (by Wynton x Ferro)
High Hopes W (by Wynton x Donnerhall)
Hoogheid (by Zambuka x Cabochon)
Hunter (by Zhivago x Zucchero)
Habana Libre (by Zizi Top x United)
Photo © Jessica Pijlman
Related Link
Nineteen Colts Accepted at First Pre-Selection Day for 2015 KWPN Stallion Licensing