2014-2015 KWPN Stallion Competition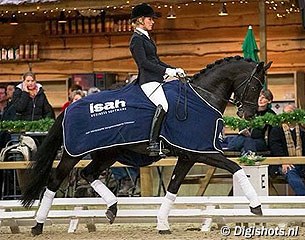 The 4-year old Van Vivaldi, the 5-year old El Capone and the 6-year old Dark President were the winners of the L, M and Z-level divisions at the second leg of the 2014-2014 KWPN Stallion Competition circuit, held at Stable den Goubergh in Roosendaal, The Netherlands, on 16 December 2014. The young stallions were judged by Gert van den Hoorn, Jan Wolfs and Karin Retera.
In the L-level division the German based black stallion Van Vivaldi (by Vivaldi x Obelisk) reigned supreme with a score of 88,5 after a very beautiful presentation by Norwegian rider Isabel Bache, who works at Paul Schockemohle's stallion station in Muhlen. Van Vivaldi was the reserve champion of the Westfalian stallion licensing and is owned by Sven Rothenberger. Under Bache the stallion excelled with his swing, lightfootedness, and correct presentation.  Danish based Spanish rider Severo Jurado Lopez steered Andreas Helgstrand's KWPN stallion Franklin (by Ampere x Ferro) to a second place with 85 points.
In the M-level division Marieke van der Putten and the black Dutch bred El Capone (by UB40 x OO Seven) continued their streak of success and won the class with 88 points. The stallion stood out with his very good walk, lightfooted trot and uphill canter. Two stallions tied in second place. Diederik van Silfhout and Expression (by Vivaldi x Vincent) scored with his basic gaits, while Kirsten Brouwer and Eye Catcher (by Vivaldi x Partout) scored points as the chestnut has very good articulation of the joints.
At Z-level Van der Putten also reigned supreme on the black 6-year old Dark President (by Wynton x G Ramiro Z). The stallion was ridden by Hans Peter Minderhoud at the first leg in Ermelo, but assistant trainer Van der Putten saddled him for Roosendaal and aced the class with 84.5 points. Gerdine Maree and Dark Pleasure (by Ufo x Jazz) were the runners-up. Emmelie Scholtens and Desperado (by Vivaldi x Havidoff) landed third place with 83.5 points.
Results - 2014 KWPN Stallion Competition - Roosendaal

L-level
1. Isabel Bache - Van Vivaldi - 88.5 points
2. Severo Jurado Lopez - Franklin - 85.0
3. Kirsten Brouwer - Ferdeaux - 81.5
3. Vai Bruntink - Foreign Affair - 81.5
5. Vai Bruntink - All at Once - 80.50
6. Mirelle van Jemenade - Ferdinand - 79.50
7. Dinja van Liere - For Gribaldi - 78.50
8. Kirsten Brouwer - Five Star - 78.00
9. Leida Collins - Fellini - 77.0
9. Theo Hanzon - Fallatijn - 77.0
11. Joyce Lenaerts - Firestone - 73.0
12. Cynthia Overbeeke - Flintstone - 70.0
M-level
1. Marieke van der Putten - El Capone - 88 points
2. Diederik van Silfhout - Expression - 81.50
2. Kirsten Brouwer - Eye Catcher -81.50
4. Vai Bruntink - Ebony - 81.00
5. Diederik van Silfhout - Everdale - 78.00
6. Emmelie Scholten - Estoril - 76.50
Z-level
1. Marieke van der Putten - Dark President - 84.5
2. Gerdine Maree - Dark Pleasure - 84.0
3. Emmelie Scholtens - Desperado - 83.5
4. Madeleine Witte - Charmeur - 80.50
5. Diederik van Silfhout - Diego - 77.00
6. Robin van Lierop - Chicago - 77.9
7. Jose van Haaren - Cupido - 75.00
8. Gerrel Vink - Double D - 66.00
9. Jose van Haaren - Davinci - 63.50
Related Links
All At Once, El Capone, Desperado Win First Leg of 2014-2014 KWPN Stallion Competition in Ermelo
Franklin, Winner of the 2013 KWPN Autumn Stallion Performance Testing