Canadian Dressage News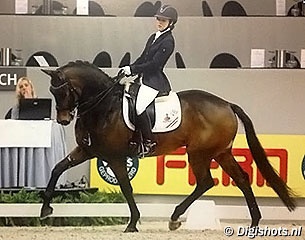 Canadian Grand Prix rider Jill Irving has acquired Chantal van Lanen's 9-year old Dutch warmblood gelding Arthur (by Jazz x Contango) as a new Grand Prix hopeful. Irving is trained by Canadian Olympian Ashley Holzer.
Arthur is a rising Grand Prix horse which has been competed in the medium tour by former Dutch youth team rider Chantal van Lanen.  The pair has only competed on national level in The Netherlands. 
"Jill Irving bought the horse and will be competing him in the future," Holzer told Eurodressage. "I may be showing Arthur from time to time if necessary as Jill has a very busy show schedule.  It is a beautifully trained horse and Jill is excited to have such a lovely horse in her stable."
Van Lanen joined Arthur on his flight to Florida, U.S.A. where Holzer and Irving are staying for the winter show season.
"Jill has struck up a great relationship with Chantal," said Ashley. "Chantal flew with Arthur and stayed in Florida for 10 days to help Jill know the horse a little better.  I think it is wonderful when the previous owner is so helpful doing everything she can to make the transition smooth for the horse and new rider."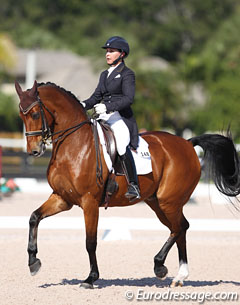 After taking a side step and missing out on the 2014 World Equestrian Games, New York city based Holzer is potentially putting herself back in the running for 2016 Olympic team selection on her new Grand Prix star, 9-year old Westfalian gelding Dressed in Black (by Dresemann x Silvano).
However it is rumoured that Holzer would take up American nationality and start up competing for the U.S.A. as of 2015, but Holzer told Eurodressage her intentions are to stay with Canada for the time being.
"I am applying for my (American) passport but that is all at the moment. I am entitled to dual citizenship," Holzer explained. "I am not changing anything at the moment."
In 2014 Jill Irving, who is from Moncton, New Brunswick, has been competing Pop Art and Degas at international Grand Prix level, while she also campaigned Dio Mio at small tour level in 2014.
Photos © Leanjo de Koster - Astrid Appels
Related Links
Brooks Wins Kur, Pavicic Takes Royal Invitational Dressage Cup at 2014 CDN Toronto
Canadians Holzer and Ziegler Sweep 2014 Dressage at Devon CDI-W
Canadians Win Nine FEI Classes at 2014 CDI-W Saugerties