Belgian Dressage News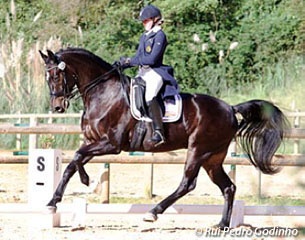 Belgian youth team chef d'equipe Laurence van Doorslaer has announced the updated list of qualified youth team riders for 2015.  Several new pairs have knocked on the door and more experienced combinations have returned on the teams.
Van Doorslaer is looking forward to the 2015 show season with her new team listed riders. This list is of course not definite and riders can be promoted onto the teams throughout the season depending on their scores.
Riders do not have to be A-team members to be considered for the European Championships. "The form and fitness of a combination leading up the Europeans and the sportsmanlike behaviour of the rider and his team can also be decisive," van Doorslaer added.
The final decision for official team selection depends entirely on the Belgian dressage committee.
Pony Riders - A-Team
Suraya Hendrix - De Rechri
Dente de Schepper - Orchid's Syria
Pony Riders - B-Team
Josefien van de Velde - Tunja's Edward
Pony Riders - C-Team
Ann Sofie Goethals - Orchid's Tygo
Laura Luyten - Jerome van de Vondelhoeve
Yana Reynders - Enzo Leco
Junior Riders - A-Team
Numa Verberne - Riverdance
Junior Riders - B-Team
Antonia Arl - Equestricons Ziggy
Isabel Giart - Nemo
Junior Riders - C-Team
Charlotte de Causmeker - Why Not
Laura de Graeve - Sandro's Diamond
Julie Koninkx - Dabanos
Mauro Thyssen - Clever
Young Riders - A-Team
Charlotte Defalque - Botticelli
Alexa Fairchild - Timor
Jorinde Verwimp - Tiano
Young Riders - B-Team
Sanne Kielenseyn - Air Miles PB
Young Riders - C-Team
Estelle Borremans - Dynamite
Dries van Dijck - Weltmiro
Jorinde Verwimp - Sir OK
Photo © Rui Pedro Godinho
Related Links
Belgian Teams Selected for 2014 European Junior/Young Riders Championships
Belgian Talent Teams for 2014 Announced
2014 Belgian Dressage Squads Updated
Alexa Fairchild Loses Totall Tip Top in Freak Accident
Antonia Arl Succeeds Sister and Wins 2014 Belgian Pony Championships
Verberne, Verwimp and Vanommeslaghe Win 2014 Belgian Dressage Championships