2015 CDI Drachten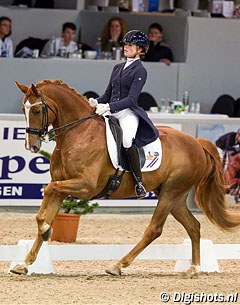 Dutch Junior rider Febe van Zwambagt and the Rhinelander stallion FS Las Vegas found their groove in the junior division at the 2015 CDI Drachten on 9 - 11 January 2015. While 2014 was a year of getting to know one another, former Dutch pony team medalist Van Zwambagt and her chestnut stallion have gelled. They proved that by winning the junior division in Drachten.
Winning the team, individual and kur tests with 72.387%, 71.404%, and 74.583% Febe van Zwambagt was very happy with her 8-year old gelding FS Las Vegas (by Lord Loxley x Louis Le Bon) She says he was feeling sharp and on the aids.
"My trainer Emmelie Scholten headed down to Drachten to help and it turned out well," Febe told Eurodressage. "During the competition he felt fine; loose and powerful. However I took too much risk, and asked him too much to come back after the extended canter and that was unfortunate."
Febe told Eurodressage it takes time for Las Vegas, who is known as Lassie around the stable, to trust in people. He can be a bit fussy.
"He goes out very often during the day, where he can release his mind and his energy," van Zwambagt explained.
While still focusing on her pony career in 2014, Febe was also learning the ropes riding horses at the same time. She competed her horse Las Vegas for the first time in Compiegne, France, and had her hands full on the stallion who refused to go into the main ring.
"Lassie has improved so much in the last 6 months, and it was only last June that he competed for the first time at an international competition in Compiegne. He found it all very exciting, but unfortunately for us the organisers decided ast minute to put the junior test in the main arena without any chance for a test ride. With no possibility to explore the atmosphere, it was a little overwhelming for his international debut."
The duo continued to work steadily and with patience over the summer and is now reaping the fruits of their labour as Van Zwambagt has permanently moved on from a highly successful time in ponies to horses in the junior division.
"Since Compiegne Lassie and I have made a lot of mileage. We train a lot in different environments and in the woods in front of our house," she said.
Soon to hit the show ring with her second horse, the 7-year old Rhinelander mare FS Lambada (by Lord Loxley x Kosmonaut ox), Febe hopes the mare will improve along the same lines as Las Vegas.
"The fact that it is all falling into place for Lassie and me is a combination of time, trust, and experience, which Lassie and I have acquired over the last two years," she added. "My plans for this season are to continue to fine tune my training with Emmelie Scholtens and team trainer Tineke Bartels. I want to show that Lassie is a league of his own."
by Sarah Warne - Photos © Leanjo de Koster
Related Links
Scores: 2015 CDI Drachten
Rikke Svane Wins 2015 CDI Drachten Grand Prix
Over One Hundred Horses Entered for 2015 CDI Drachten
Febe van Zwambagt Wins the 2014 Dutch Indoor Pony Championships
Febe van Zwambagt and Coco Jambo Win 2013 Dutch Indoor Pony Championships
Febe van Zwambagt and Prince Z Win 2011 Imperial Riding Cup Finals