2015 CDI Jerez de la Frontera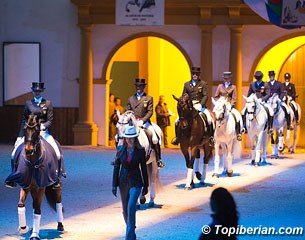 Spanish Carmen Naesgaard made a stunning return to the show ring with Richardo, winning the 3* Grand Prix at the 2015 CDI Jerez de la Frontera in sunny Spain on Friday 27 February 2015. The shooting star duo Naesgaard and her Hanoverian Ricardo (by Rosentau) scored a winning 73.414%.
By winning the Grand Prix in Jerez, Naesgaard turned herself into strong contender for the Spanish team with the 2015 European Championships in Aachen in August as highlight event of the year!
The pair already appears in top form as the judges unanimously scored her 73,414% to put her in the first place. It was a personal best score. Ricardo's walk showed a little bit of tension but the piaffe and passage were beautiful and flawlessly executed.
José Antonio García Mena and the PRE bred Norte (by Cortesano VII out of Iluminada VII) came in second placed with expensive mistakes in the two tempi changes as well as in the flying changes. The rest of the test he showed his habitual nice quality.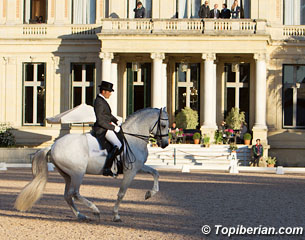 The third position was also for a Spanish rider, Cristobal Belmonte with his Belgian warmblood and show jumping bred Diavolo de Laubry (by Alibi de Laubry out of Imandra de Laubry). They showed themsekves in top shape with nice piaffe work and nice uphill flying changes. It brought this combination up to their personal best mark of 70,200%.
Portuguese riders were gearing up to personal best scores as well at international Grand Prix level. Raquel Falcao and the Lusitano bred Real (by Hostil out of Noreza) and Manuel Veiga with the Lusitano Ben Hur da Broa (by Quinteiro da Broa out of Embaixatriz) completed the top five. 
For more information about the show, visit events.topiberian.com. You can
always follow the scores, live with each mark given by a judge, on scores.topiberian.com.
by Katharina Braren - Photos © Top Iberian
Related Links
Scores 2015 CDI Jerez de la Frontera
The 2015 Southern Dressage Tour in Spain is Calling
Orange Tree Blossoms in the Sherry Town, The 2015 CDI Jerez de la Frontera Premiere