French Dressage News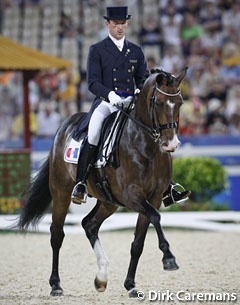 The national premier league show in Jardy, France, on 9 - 12 April 2015 will be a scene of come back kids at Grand Prix level. With no less than 39 horses entered in the Grand Prix, Jardy is promsing to be an interesting French spring show.
Marc Boblet's 2008 French Olympic team horse Whitni Star will make his come back to the show ring after a four year break from competition. Boblet's 16-year old Belgian warmblood gelding (by Pik Solo x Latano) injured his right front leg in October 2011 and didn't relish a semi-retirement in the field.
"We're just doing the Grand Prix for fun," Marc Boblet told the French magazine Grand Prix Replay. "He was in semi-retirement but in fact he didn't like being in the paddock. He always wanted to go back inside." In agreement with the vet, Boblet picked up his training again. "He really found the buttons again quickly. I'm presenting him only to bring back fond memories, not really to excel. We'll see what happens at Jardy. It's a first step and I don't yet have a plan."
Jardy is the third French premier league show this 2015 show season after Rosieres and Le Mans. No less than 39 Grand Prix combinations are entered to compete. Whitni Star will not be the only come back kid there. Grand Prix rider Jean Philippe Siat will also return to the ring after retiring his top horse Tarski van de Zuuthoeve. French A-team rider Ludovic Henry has given Siat the ride on his second Grand Prix horse Udayan, returning the favour as Henry rode Siat's Greystoke in 2009 and 2010.
French based Belgian WEG Team rider Laurence Vanommeslaghe will also make her return to the show ring since the 2014 World Equestrian Games in Caen, France. At the WEG her lovely 16-year old chestnut Hanoverian Avec Plaisir (by A Jungle Prince x Hitchock) looked slightly tender and he has been on a show break since then.
After selling her number one Grand Prix horse Paradieszauber in 2014, French A-team rider and former Olympian Catherine Henriquet has a new number one which she has been campaigning nationally at Grand Prix level since 2013: the 13-year old Belgian bred Scherzo ZC (by Ferro x Romadour II). This pair is also entered for the CDN Jardy.
Photo © Dirk Caremans
Related Links
Catherine Henriquet Wins 2013 French Dressage Championship
Marc Boblet, Taking the Rough with the Smooth
Marc Boblet, 2008 French Dressage Champion
Verberne, Verwimp and Vanommeslaghe Win 2014 Belgian Dressage Championships