2015 CDI Hagen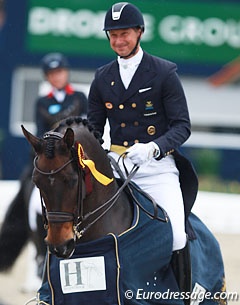 Same venue, same test, only one year later. Swedish rider Patrik Kittel won the Grand Prix, prize of the Schwiebert family's Helenenhof, in 2014 with the Silvano x Don Schufro-daughter Deja and achieved a repeat victory in 2015 with a top score of 78.00%. Rain showers could not dampen the wonderful atmosphere at the 2015 Horses and Dreams Meets Australia on Saturday 25 April 2015 at Hof Kasselmann in Hagen, Germany.
Second place in the Grand Prix for Kur went to Ingrid Klimke with Dresden Mann who also knows the Almased Dressage Stadium inside out. The noble black gelding by Dresemann x Florestan already won the qualifier for the Louisdor-Prize at the same venue in 2013. Third place went to riding master Hubertus Schmidt with the Danish warmblood Hedelunds Mefisto (by Michellino x Matador).
All three horses are 11-years old and thus still young representatives in Grand Prix: "They are all at the beginning of their careers, there is still room for improvement," Patrik Kittel happily said, and he likes to talk about Deja: "She is a true competition horse. Every time she enters the arena, her ears point forwards and she knows exactly that it's time to rock. I almost only have to guide her," the Swedish championship rider smiled. Since her victory last year, the mare has considerably improved, particularly in regards to her physical development.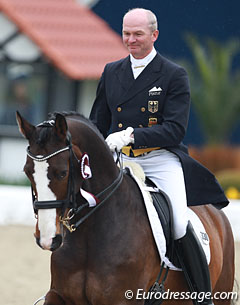 There was also a pleasing reunion at the warm-up arena, as Deja's sire Silvano also participated in this test and finished fifth with Dorothee Schneider. Kittel rode the stallion before Schneider took over the ride, and he is still enthusiastic about him: "It's simply a fantastic family, Silvano and Deja are similar to ride and both are always willingly working. Therefore, I am buying lots of foals with a similar pedigree, hoping that one day, one of them will develop into such a marvelous horse, too," said Kittel. One daughter of Deja also successfully competed at Horses & Dreams meets Australia; Deja was ridden by Kittel's wife Lyndal Oatley who competed for the host country Australia in the small tour.
Lord Carnaby Wins with substitute rider
Since last year, the renowned Nurnberger Burgpokal – a series for seven- to nine-year-old developing Prix St Georges horses – has been opening the new season at Horses & Dreams in Hagen. The eight-year-old Rhinelander stallion Lord Carnaby won the Prix St. Georges Special in the Almased Dressage Stadium. Normally, Beatrice Buchwald, assistant trainer at Isabell Werth's yard, rides the Lord Loxley I x Rocket Star-son. In 2013 the chestnut became Bundeschampion of six-year-old dressage horses with Buchwald.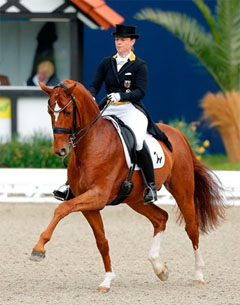 However, Isabell Werth rode Lord Carnaby at the Hagen Borgberg and piloted him to victory. This does not mean a fundamental change of rider, as Isabell Werth explained in an interview with ClipMyHorse: "We already discussed before the World Cup Final that I will ride Lord Carnaby here in Hagen. But it is planned that Beatrice also participates at the one or other qualifier for the Nurnberger Cup with him."
With this victory, Lord Carnaby made himself a strong contender for a ticket to the Final in December at the Frankfurt Indoor Show. However, only the victorious horse-rider-combination qualifies for the Final – from today's point of view, Isabell Werth would have to compete in the Final unless Beatrice Buchwald would also win one qualifier in the course of the season – which absolutely without any doubt will happen according to Werth. The dressage queen underlined that the young dressage horse seems to be born for Grand Prix-tests.
Anabel Balkenhol took first place in group 2  with the Trakehner stallion Heuberger, an eight-year-old Imperio x Michelangelo-son. However, the rules of the Nurnberger burgpokal stipulate that in case two winners, only the highest scoring rider will qualify for the Final.
Photos © Astrid Appels
Related Link
Eurodressage Coverage of the 2015 CDI Hagen